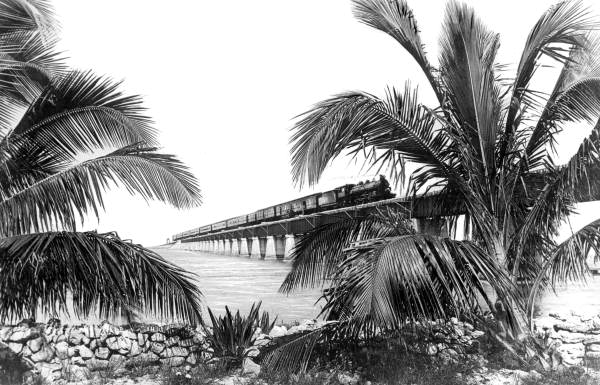 TALLAHASSEE, Fla. -- Florida was wilderness in the 1880s when Henry Morrison Flagler moved to St. Augustine. But where others saw swamps and mosquitoes, Flagler saw sunshine, warmth and potential. So the titan of industry left his partner, John D. Rockefeller, and Standard Oil behind and began a new career in tourism.
Single-handedly, Flagler transformed the state, with his Florida East Coast Railway delivering tourists 100 years ago from the frozen North to warm sunshine and magnificent hotels in the "Land of Flowers."
Flagler soon had a new nickname: "Tycoon in Paradise." When his rail line reached south Florida, the grateful citizens offered to name the city after him. He declined the honor and suggested the Indian name Miami.
His most audacious achievement was still to come: a 153-mile railroad line over the ocean to Key West. Some called his Over-Sea Railroad "Flagler's folly" but the jeers turned to cheers when his personal rail car rolled into Key West on Jan. 22, 1912, linking the islands to south Florida. Some now consider the rail line the eighth Wonder of the World.
"I regard (the Over-Sea Railroad) as second only to the Panama Canal in its political and commercial importance in the United States," said Elihu Root, Secretary of State and a Nobel Prize winner, in 1912.
As the centennial anniversary of the railroad's completion approaches, the Sunshine State is celebrating with exhibitions and special events from Jacksonville and St. Augustine on Florida's northeast coast to Palm Beach and Miami in southeast Florida and all the way to the state's southernmost tip, at Key West.
As his railway lured tourists to Florida, Flagler constructed splendid hotels along the route to dazzle them. In St. Augustine, tourists today still are awed by the Hotel Alcazar, now the Lightner Museum, and Casa Monica Hotel, stunning examples of architecture from the Gilded Age of grandeur and opulence. The historic Breakers Resort continues to welcome guests in grand style in Palm Beach, as does the Casa Marina in Key West.
Flagler's home in Palm Beach, now The Flagler Museum, houses magnificent antiques, his personal rail car and memorabilia from the oil tycoon's career. Flagler's final resting place, next to his daughter and first wife, Mary, is in St. Augustine, at Memorial Presbyterian Church, which he built upon his daughter's death in 1890. The copper-domed church is a striking example of Venetian Renaissance architecture, patterned on St. Mark's Basilica in Venice.
Flagler's rail route over the pristine waters of the Keys is now an "All-American Road," one of only a handful around the United States. A bike path 127 miles long was designated along the original bridges, now shared by fisherman and sight-seers. A remaining trestle bridge presents kayakers a unique view from underneath.
Contact Pam Forrester at VISIT FLORIDA to learn more about the Centennial Anniversary of the completion of Flagler's Florida East Coast Railway and Over-Sea Extension to Key West. Send e-mail to pforrester@VISITFLORIDA.org or call (850) 205-3827. Find other news and a library of Florida images at media.VISITFLORIDA.org.
####
VISIT FLORIDA is available to work with producers, reporters, and writers to identify experts, venues and archival video and photos to support this project.
Available to the press:
-- Ride the original Florida East Coast Railway, now a freight line from Jacksonville to Miami
-- Bike along the original railway bridges in the Florida Keys
-- Visit a Flagler work camp, currently a museum on Pigeon Key
-- Kayak under an original trestle bridge in the Florida Keys
-- Museum tours hosted by local experts in St. Augustine, Palm Beach and Key West