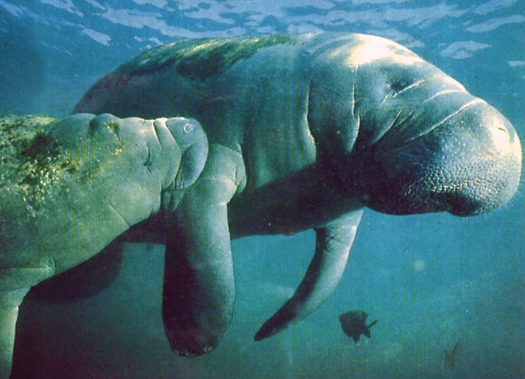 A baby dolphin was dying. The inspired acts to save Winter and make her whole again in a Clearwater aquarium will become a national story with the Sept. 23 release of Dolphin Tale, starring Ashley Judd, Harry Connick Jr. and Morgan Freeman.
Here's another story: Florida has always been the best place to see and work with wildlife.
More than 500 marine species that inhabit Florida waters - from hammerheads to Gulf shrimp and, of course, bottlenose dolphins - fall under state and federal protection. The Florida Keys are home to the only coral barrier reef in the continental United States.
So here's a Florida 5, some frequently asked questions and answers about marine life in the Sunshine State. For more information, go to
www.VISITFLORIDA.com
.
1. Where can I see Winter or creatures like her?
Winter, now 6 years old and thriving with a prosthetic tail, is a permanent resident of Clearwater Marine Aquarium, the filming location for Dolphin Tale.
Miami Seaquarium in Key Biscayne is home to Flipper, the latest dolphin carrying the name made famous by the 1960s television show.
SeaWorld Orlando has an animal rescue team that responds to wildlife in crisis with the goal of rehabilitating them for release back into the wild. A small number of those animals, whose injuries are too severe to be released, are given lifelong care in the SeaWorld parks.
For more information, see
visitflorida.com/aquariums
.
2. How can I volunteer on my vacation?
At the Florida Oceanographic Society in Stuart, for example, "voluntourists" can work on the Oyster Reef Restoration project. Staff and volunteers grow oyster larvae, then build reefs and populate them with growing oysters. For a list of volunteer opportunities and dates, visit
www.floridaocean.org
.
In South Florida, the Marine Mammal Conservancy accepts volunteers who are interested in assisting stranded marine mammals such as the Cudjoe Bay pilot whales. The
Marine Mammal Stranding Network
identifies volunteer needs elsewhere in Florida. Go to
www.marinemammalconservancy.org
for more information.
3. Can I swim with marine life?
Under certain circumstances. In Tampa, The Florida Aquarium Swim with the Fishes program allows visitors to enter the world of SCUBA diving in a controlled environment. The aquarium's manmade reef, modeled after the Dry Tortugas near Key West, is home to moray eels, porcupine fish and a green sea turtle. Visit
www.flaquarium.org
for information.
At Discovery Cove in Orlando, visitors can swim with dolphins, rays and thousands of exotic fish. Go to
www.discoverycove.com
for more information.
4. Where can I see Florida marine life for free?
Here are two places to start: Manatee Sanctuary Park in Cape Canaveral for manatees and dolphins; in winter months, the warm waters of Palm Beach County's Lake Worth Lagoon are a migratory draw for manatees.
For more information, see
visitflorida.com/sealife
.
5. Are there restrictions to observing marine life in the wild?
The general rule of thumb is: Look, but don't touch. Marine mammals are protected under federal law by the Marine Mammal Protection Act of 1972. Also, the Florida Manatee Sanctuary Act of 1978 prohibits the disturbance of manatees, which includes but is not limited to feeding, giving water, chasing and touching. Feeding fish, sharks or other marine species while diving or snorkeling is prohibited as well. For more information on restrictions and regulations, please visit
www.myfwc.com
.