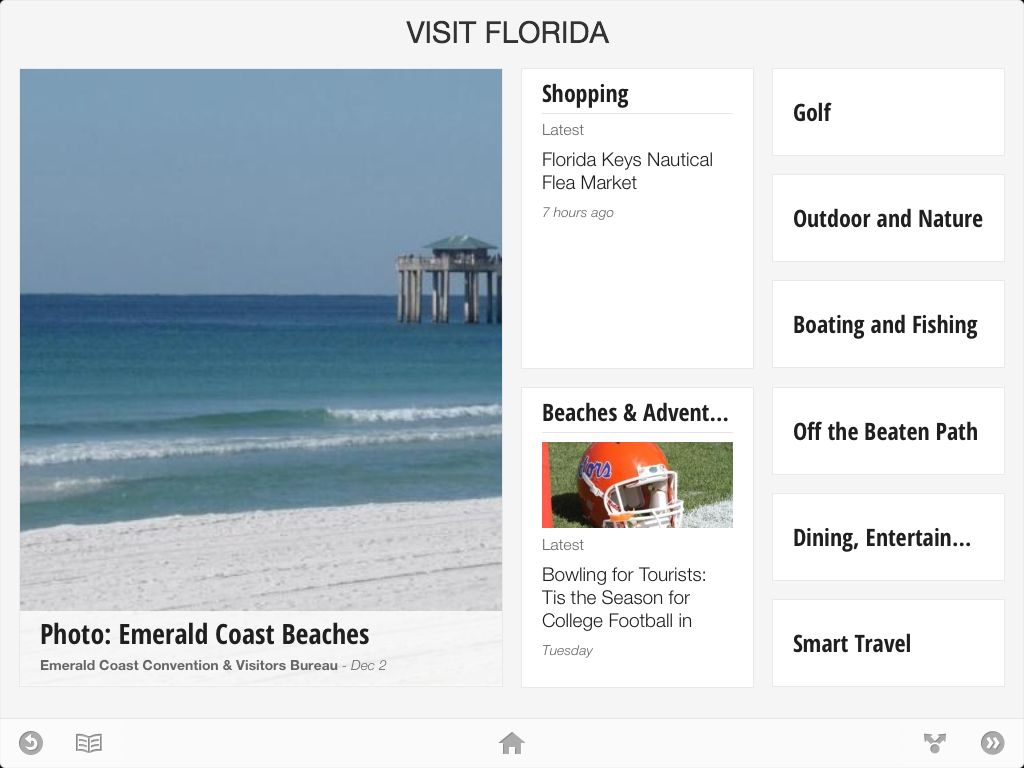 TALLAHASSEE, Fla. – Through Google Currents, a new reader application, VISIT FLORIDA is the nation's first destination marketer to provide its travel magazine online to Android devices, iPads and iPhones.
Leading the nation in digital travel content, VISIT FLORIDA is the trusted authority on Florida vacation planning, delivered to travelers where they are and on the devices they prefer.
Enticing images, videos and articles about Florida reported by veteran Florida journalists guide readers through the Sunshine State at the tap of a touch screen, even offline. Blogs written by VISIT FLORIDA "Insiders" give first-person reports from new and classic destinations across the state.
On a train, aboard a plane or on a favorite couch, readers can experience hang-gliding in Groveland, ziplining near Pensacola, racing at Daytona, historic coastal forts, kayak journeys, diving on coral reefs, and bliss on the Sunshine State's 825 miles of beaches.
Florida's dolphins, manatees, and rare birds come to readers until the readers can come to them. Golfers can scope out the state's famous courses, shoppers can find their mecca, and fantasy-lovers can explore their favorite Florida theme park. Fishermen can see what's biting in Florida's blue-green waters, and boaters can find a sheltered bay, mangrove trail or ocean vista to explore.
And that's just in the first 15 minutes.
Download the Google Currents app to your smartphone or tablet. Then add VISIT FLORIDA to your Currents library, to visit the Sunshine State any time with the swipe of a finger.
Learn more about traveling in Florida at www.VISITFLORIDA.com, with mobile-friendly content and travel-planning tools.
For more information, contact lcassels@VISITFLORIDA.org, (850) 205-3839.