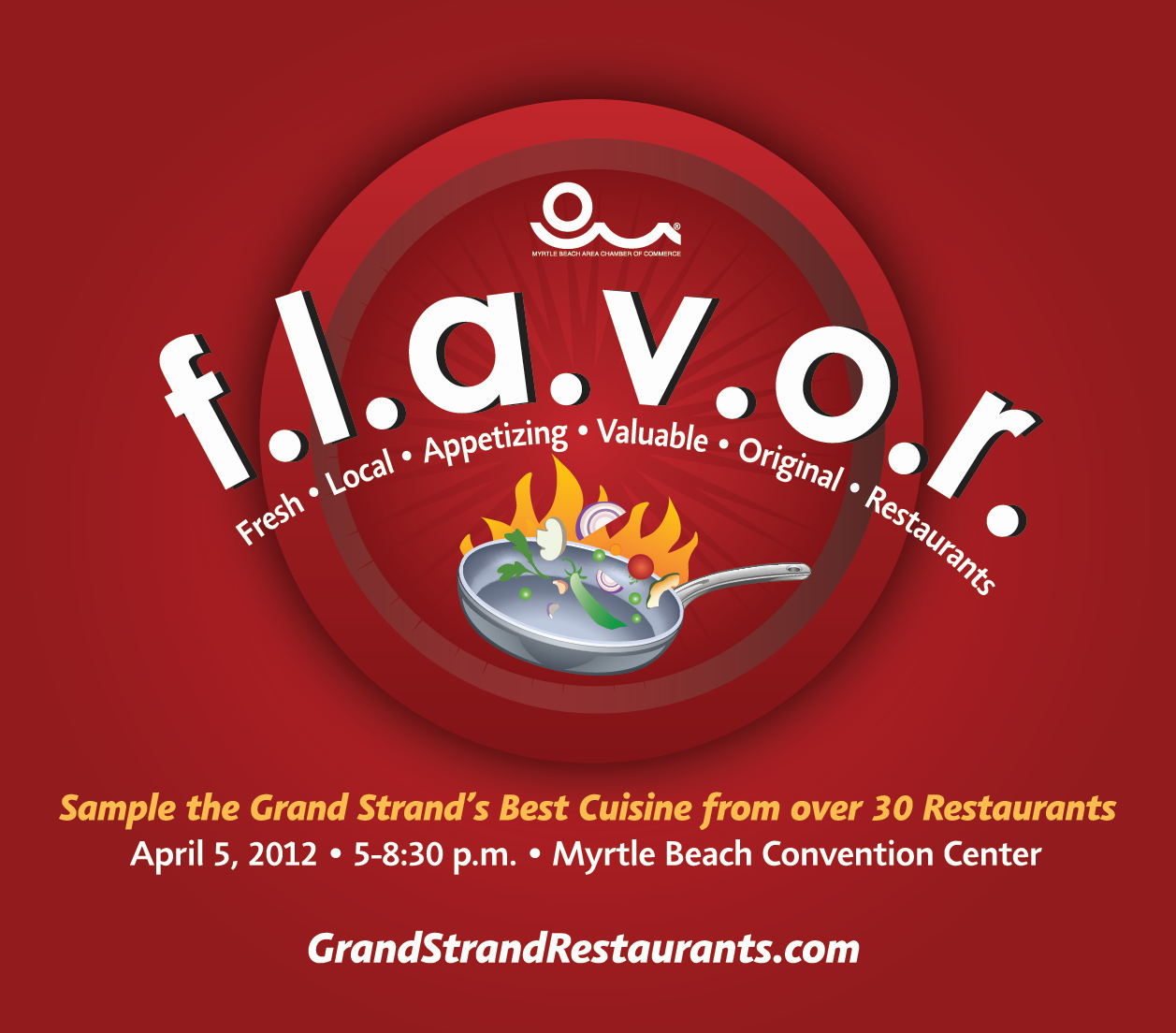 MYRTLE BEACH, S.C. – The Grand Strand's premier spring culinary event, f.l.a.v.o.r, will return for its second year to the Myrtle Beach Convention Center on April 5. The culinary event f.l.a.v.o.r. stands for fresh, local, appetizing, valuable, original, restaurants, and is presented by the Myrtle Beach Area Chamber of Commerce and sponsored by GrandStrandRestaurants.com and Myrtle Beach Mobile. This year's f.l.a.v.o.r. will feature over 30 area restaurants serving up a variety of samples from their menus and welcomes The Cooking Channel and Food Network stars Bobby and Jamie Deen for event attendees to meet-and-greet.
Enjoy beer and wine gardens, wine tastings as you sample food from along the Grand Strand. Those attending will also have the opportunity to take a photo with and receive signed autographs from Bobby and Jamie Deen—sons of Southern cooking queen Paula Deen.
Bobby Deen's show on The Cooking Channel, "Not My Mama's Meals," brings some of his family's favorite Southern recipes to the table with his healthier, lighter approach to cooking, and Jamie Deen recently shot his first solo pilot "Home For Dinner with Jamie Deen" for The Food Network. Together, the two have published four books, The Deen Bros. Cookbook-Recipes from the Road released in 2007, Y'all Come Eat in 2008, Take It Easy in 2009 and Get Fired Up in 2011, available for purchase at the event.
The Deen brothers will be involved in the judging aspect of the event, where participating chamber restaurants will have the opportunity to compete for the title of "Best Flavor" along with a $1,000 cash prize and bragging rights. Proceeds will help benefit four lucky culinary students from Horry Georgetown Technical College with a scholarship donation.
"We're so excited to be able to bring this family friendly event to the community for a second year. It's going to allow the public to sample some of the best food from various award-winning restaurants along the Grand Strand all in one night! With the Deen brothers, delicious food samples, wine tastings, and more, f.l.a.v.o.r. will be one fun event you won't want to miss," said Amie Lee, Director of Festivals and Special Events for the Myrtle Beach Area Chamber of Commerce.
The event, taking place in Exhibit Hall A, is free and open to the public from 5-8:30 p.m. Food tickets for samples are $1 each, with most samples ranging from one to three tickets.
For more information about f.l.a.v.o.r. visit GrandStrandRestaurants.com or call (843) 626-7444.
# # #
About the Myrtle Beach Area Chamber of Commerce
Since 1938, the Myrtle Beach Area Chamber of Commerce has stood as the unified voice of the Grand Strand's business community. The U.S. Chamber of Commerce has awarded the MBACC its five-star accreditation, one of only several chambers in South Carolina to earn this distinction. The MBACC serves Myrtle Beach, North Myrtle Beach, Surfside Beach, Little River, Atlantic Beach, Garden City Beach, Loris, Conway, Aynor, Murrells Inlet, Litchfield Beach and Pawleys Island. For more information, visit MyrtleBeachAreaChamber.com.