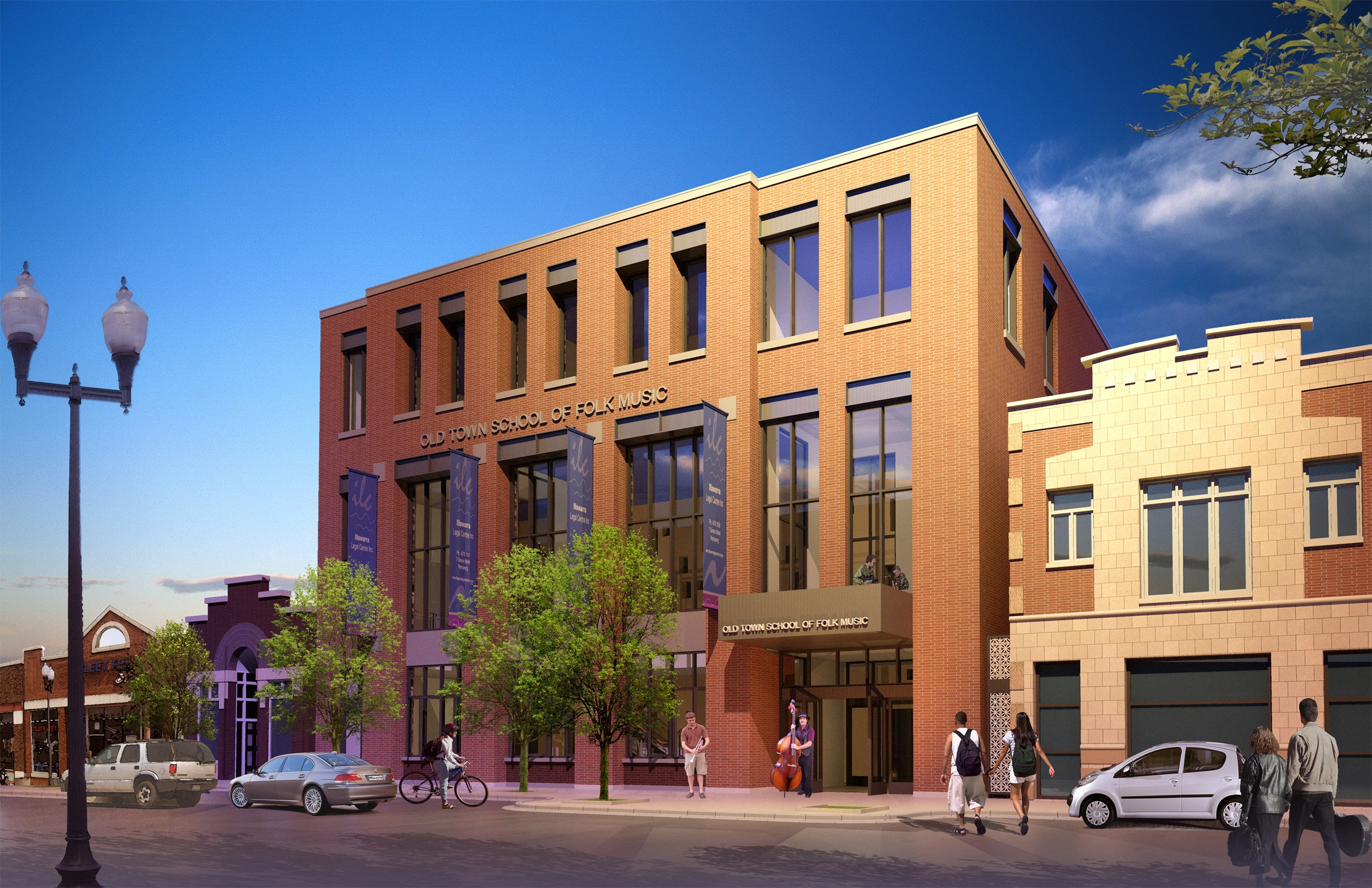 CHICAGO, IL – Chicago's renowned Old Town School of Folk Music is expanding its educational offerings in a new building located directly across the street from their existing building at 4544 N. Lincoln Avenue. The 27,100-square-foot building will house eighteen classrooms, three of which are dedicated to folk and ethnic dance, and a flexible Performance Hall. The new facility was designed by the Chicago office of VOA Associates Inc., and is scheduled to open on January 9th, 2012.
"In partnership with Old Town School, we're confident that we not only achieved a design that is respectful of the local community, but also tells the unique, compelling story of the artists, instructors and audience members that bring the building to life," added Bill Ketcham. "VOA felt that the building should be classically modern with traditional detailing that would remain fresh for decades. The material selections, fenestration and detailing all relate to musical proportion, movement and harmony."
In close collaboration with Old Town School, VOA designed the building with sustainability and user comfort in mind. The 2,100-square-foot, 150-seat flexible space located on the middle floor will serve as the facility's largest classroom and principal performance venue. With energy-saving heating and cooling systems, water-efficient plumbing technology and a green roof, the new building is expected to achieve LEED Gold certification.
"We've enjoyed a great working partnership with our architects," said Bau Graves, Executive Director of the Old Town School of Folk Music. "They've created a facility that is functional and beautiful, and speaks directly to the Old Town School experience. The sophistication of the building design -- acoustically, environmentally and aesthetically -- makes a bold statement about the essential place of traditional and popular music among our national cultural treasures."
The façade of the building is designed to be deliberately urban in character and to relate to the existing school facility. Through the use of large expanses of glass and a well-lit, two-story entry/gathering space, the front twenty feet of the building becomes an inviting "front porch" on Lincoln Avenue, facilitating interaction with the vibrant and diverse Lincoln Square community.
The community is invited to celebrate the Grand Opening, a ceremonial ribbon–cutting and first day of classes in the new East Building on January 9, 2012, starting at 10:30 AM.
About VOA Associates
VOA Associates is a global architectural design firm that blends the capabilities of a multinational company with the care and attention of a boutique studio. VOA creates distinctive, internationally acclaimed spaces that enhance the environment and improve the human experience – places for people to heal, learn, work and play. As one of the greenest architecture firms in the United States, VOA boasts more than 70 LEED APs who actively pursue the highest standard of sustainable design as a responsibility to the planet and future generations. For more information, visit www.voa.com.