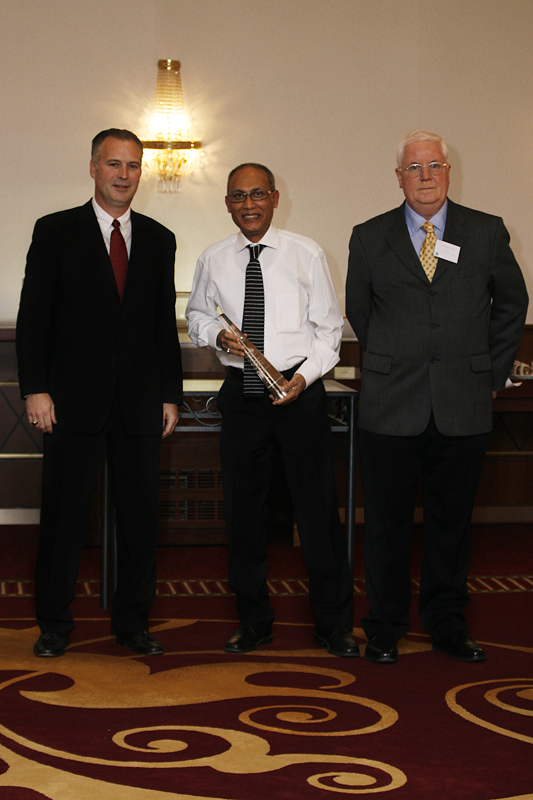 Oslo, Norway This past March, General Electric awarded Wallenius Wilhelmsen Logistics (WWL) for its excellence in quality and environmental health and safety. The award was given during a ceremony at GE Energy's first time ever Logistics Supplier Conference in Prague, attended by 120 suppliers from Europe. WWL, a global shipping and logistics provider, carries a wide variety of cargo for GE, including power generation components, generators, and wind energy components.

"We at General Electric regard Quality and EHS as two of our core fundamentals in conducting business and the company receiving this recognition is an ocean break bulk carrier who has shown a long term commitment both commercially and operationally to fulfilling these criteria," said Mr. John Burrows, European Ground Commodity Leader, GE Energy Europe, who presented the award to WWL's Abu Nasser.

"WWL is committed to delivering highly innovative and sustainable logistics solutions, and receiving this recognition from such an esteemed company as GE is something we are proud of," said Abu Nasser, General Manager of Sales and Marketing for WWL Europe. "I was honoured to receive this prize on behalf of all our team members who serve GE."

As manufacturers look to minimize environmental risks in their outbound supply chains, they are demanding more environmental accountability and transparency from their forwarders and logistics suppliers. Executives at WWL see this as an opportunity to showcase the economic value of strong environmental values and practices.

"At WWL, we are committed to the notion that a sustainable supply chain means minimal environmental impacts and risks," explains Arild Iversen, CEO of WWL. "We believe that the best way to reduce environmental risk and cost for us and our customers is to be an environmental forerunner."

In 2010, the company reduced the relative CO2 emissions from its ocean fleet by 21%. The company's 1.5% global low sulphur fuel policy has saved 151,000 tonne of sulphur being emitted over the 10 years.

More about WWL
Wallenius Wilhelmsen Logistics delivers innovative and sustainable global shipping and logistics solutions for manufacturers of cars, trucks, heavy equipment and specialized cargo. WWL has approximately 3,500 employees worldwide, and deploys around 60 modern eco-adapted vessels. The company has a strong environmental focus and is an industry leader in developing innovative solutions to reduce its operational impacts on the environment.

The company also specialises in handling complex project cargoes such as rail cars, power generators, mining equipment and yachts. WWL's sophisticated supply chain management services ensure an efficient integration of ocean transportation, inland distribution, terminal handling and a large comprehensive range of specialized technical services.