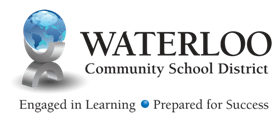 In the 2012-13 school year, we will teach beginners of instrumental music in a new way. We are committed to giving our elementary students a strong orientation to band and orchestra.
Our music teachers and administrators have been working for several years to develop an effective model that will provide our students with a strong foundation for instrumental music by the time they leave middle school, while protecting instructional time in the essential core subjects.
We focused on best practices for teaching beginning with studetns, while considering these priorities:
-To dramatically improve student achievement in all areas.
-To improve achievement in language arts, mathematics, science, and social science.
-To have one of the strongest music programs in Iowa.
Teachers visited music programs in other districts and hosted visits here from teachers in successful music programs, all with teh goal of building a program that will support guided instruction time in instrumental music, for strong skill development by the end of 8th grade.
A structured 6th grade start combined with 5th grade recruitment and summer lessons has been determined by our team as the best fit for our goals for music. Benefits for this plan:
By the time students arrive in high school, they will have had 45% more instrucional time in band/orchestra than they would under our old model. Band/orchestra will be offered every day of the week in middle school, generally with two instructors per classroom. One will be working with the large group, while the other with smaller groups of students.

Because of shifts in how instrumental music is provided, studetns who would have been pulled out of other subjects under the old model will also realize 90

more

hours of instructional time in those other subjects, over the four years of grades 5-8.

Based on our pilot with this program, when beginning students are given daily instruction, they progress at a faster rate. The bad habits that could develop from students only receiving instruction once a week (like in the current model) are less likely to develop with consistent daily instruction.

Studies have shown that the retention rate among instrumental students starting in middle school is higher because they do not transition between schools after their first year of instruction. There are many schools across the country that start their instrumental music programs in middle school and have great success.

Students in 6th grade are not allowed to participate in school sponsored sports. Therefore, unless they take a "club" sport (city-sponsored) there are no new activities offered that would interfere with instrumental music. Many of these "club" activities are offered as early as 3rd grade.
Even if students are unable to participate in the summer program, the 6th grade starter program will give them a solid foundation for success.

A great extra benefit for middle school students: Research has shown middle school students have needs for acceptance and belonging through their years of adolescent change. We see this model as fitting the needs of the adolescent learner and providing them a common peer group experience as they transition to the high school and beyond.
How It Will Work
Recruiting 5th Grade Students: The middle school band and orchestra students will perform for elementary students at scheduled times throughout the year. Students will be well informed of the opportunity to play an instrument in middle school. All 5th grade students will have an orientation to band and orchestra instruments by an instrumental music instructor through collaboration with the 5th grade general music teacher. Information about obtaining an instrument, etc., will be given at this time. Students will be able to sign up for the 4 week summer lesson program.
6th Grade Registration (August): Middle school band and orchestra instructors will have a display where information, including how to obtain an instrument and materials needed, will all be available. 6th graders not yet registered for instrumental music may do so at that time.
6th grade: Students will have the opportunity to be in both instrumental and vocal music daily. Instrumental music students will receive both large group and small group instruction from a team of teachers, based on their needs and instrument.
Please don't hesitate to contact you child's school if you have questions. We will continue to communicate about music in our parent newsletter and on our website.