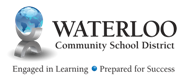 Math Curriculum in WCSD
Why does the math my child is doing look differently this year?
Here is some background information: Iowa legislature recently was one of 46 states which adopted the Common Core State Standards now referred to as the Iowa Core Mathematics. These standards define two sets of grade level expectations for your child. One set outlines the grade level skills and concepts students need to know and be able to do; and, the other set explains the mathematic behaviors students should show as they problem-solve, investigate, and share their thinking. The math curriculum is aligned to these standards. Investigations, the foundational math program, meets the high expectations of these standards.
How is my child learning math?
"In Investigations classrooms, students are expected to make sense of the mathematics, and reason about what they notice. As students develop strategies for solving problems, they are involved in three major tasks: understanding the structure of the problem, developing strategies for solving the problems, and communicating their solutions and strategies orally and in writing. The Investigations curriculum is intentionally designed to promote a deep understanding of mathematics and develop mathematically proficient students who can think, reason, model, and solve problems." (Investigations and the Common Core State Standards)
How can I help my child with math?
Play the games, do the activities, and share your thinking as you work together.
Encourage your child to think, reason, and to always talk about their thinking. You can help your child develop their thinking and reasoning by asking questions such as:
-Does this remind you of other problems you've worked?
-What have you come up with so far?
-Where do you think you should start?
-What is the problem asking you to do?
-Would drawing a picture help?
-How did you find your answer?
-Why does that work?
-Is there another way?
-How do you know it solves the problem?