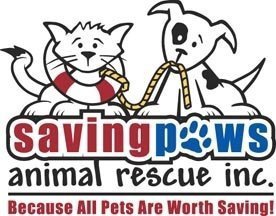 APPLETON, Wis.
-
Weidert Group, Inc.,
a full-service marketing communications agency in Appleton, has selected
Saving Paws Animal Rescue, Inc.
as its
Hero of the Month
for February 2011.
The mission of Saving Paws Animal Rescue, Inc. is to rescue homeless, abandoned and special needs animals in Northeast Wisconsin and to find new adoptive homes or provide lifelong sanctuary for them. They are a nonprofit, no-kill shelter that seeks to decrease the number of unwanted animals and the amount of animal cruelty in the area through outreach and education programs.
"Our community has a severe pet overpopulation problem," said Michelle McRae, director and founder of Saving Paws Animal Rescue, Inc. "Everyday, friendly, healthy cats and dogs are dumped on the side of the side of the road, euthanized due to overcrowding, or simply left to fend for themselves. Saving Paws needs your help to help them and eliminate homelessness for companion animals of northeast Wisconsin."
There are many ways that local residents can help the shelter's cause. They are seeking shelter cleaners, pet supplies such as clumping litter, dog and cat food, gift cards to Fleet Farm, Walmart and pet stores, gas cards and a reliable van or large automobile for animal transportation.
Community members can also donate money by signing up for their
membership program.
"We've developed a sustainable membership program, 'Promise to The Paws,'" McRae said. "To join, you can give a one time tax-deductible donation or sign up for monthly recurring donations on our website. Both will qualify you various levels of support. Depending on the level of support, you will receive Saving Paws items, like T-shirts, tote bags, and car magnets. We also accept checks, charges, electronic fund transfers, and gifts of appreciated securities. Every dollar you give goes directly back to the animals."
The organization is currently at capacity and is not able to accept any more animals. In order to help as many animals as possible, they have launched a capital campaign to raise donations towards the purchase of a new building. The organization is asking Northeast Wisconsin residents to help them locate or purchase a building that will work for their needs and help them care for more animals in need. For more information or to donate, please visit their
website.
To become a volunteer or explore other options for giving, please contact Michelle McRae at (920)-830-2392 or email her at info@savingpaws.com.
About Hero of the Month
Weidert Group, Inc.
launched their Hero of the Month program in October 2010. Each month Weidert Group will feature a local non-profit organization that's working hard to make our community a great place to live. The marketing firm promotes all the ways the community can support their causes.