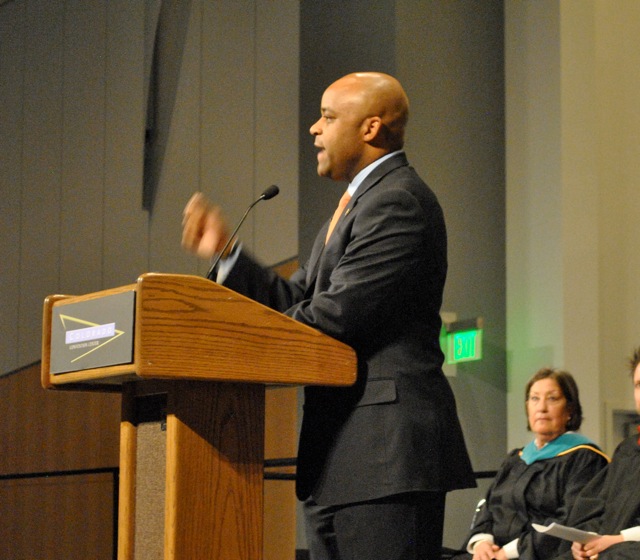 Denver, Dec. 22, 2011 – During Westwood College's commencement ceremony on Dec. 16, Denver Mayor Michael B. Hancock challenged more than 150 graduates to find passion in their new careers. He also thanked them for being part of the solution to improve the workforce and the region's ability to support and attract new businesses.
The Mayor's personal non-traditional upbringing exemplifies the challenges faced by many of the Westwood graduates from its Denver campuses. Most students are the first in their family to graduate college; many have tried other colleges with little success; many completed their degrees while working full-time; and a large percentage have children at home.
"As a poor kid growing up in Denver, one who was never expected to attend college let alone graduate, I learned the one thing that can never be taken away from you – your degree. You earned it," said Hancock, in his first commencement address since becoming Mayor.
The mayor also called out the graduate's accomplishments in completing Westwood's career-focused programs. "You are bringing new skills to your job and success to your employers. You have boldly taken steps to better yourselves and further your education. I encourage you to always expect more."
Many Westwood College graduates are already using their degrees in the workplace:
Josue Alvarez, a construction management graduate, was recently promoted to field engineer at Garney Construction based on his degree from Westwood.
Tim Weissling, an IT security systems graduate, used his new degree to get promoted at Raytheon, and to show his five sons that you are never too old to go back to school.
Marcellus Eddie, an automotive technology graduate, received a job in his field of study almost immediately following completion of the program, and is setting the groundwork to start his own business.
Seventy-four percent* of Westwood's graduates are employed in their fields of study or related fields. Some of the Colorado companies that employ graduates from Westwood College include
CH2M HILL, Northrop Grumman, Raytheon, Kaiser Permanente, Oppenheimer Funds and Denver Public Schools.** Westwood currently has more than 920 students enrolled in Colorado.
For more information about Westwood College, visit www.westwood.edu. To see a video clip of the graduation ceremony, click here.
*Statistic is based on the combined employment rates of Westwood graduates across all campuses as reported to Accrediting Commission of Career Schools and Colleges for the period from July 2009-July 2010.
** Westwood College must track the initial employers of its graduates for regulatory and accreditation purposes. This list is a compilation of employers of Westwood College graduates from this and recent graduating classes. It is not intended to represent an endorsement of Westwood College by the listed employers.
About Westwood College
Westwood College is an institution of higher learning with 14 campuses located in California, Colorado, Georgia, Illinois, Texas and Virginia. Westwood offers a hands-on, career-focused curriculum in sought-after fields such as healthcare, technology and business. Westwood is accredited by the Accrediting Commission of Career Schools and Colleges (ACCSC) and the Accrediting Council for Independent Colleges and Schools (ACICS), depending on the campus. For more information, visit http://www.westwood.edu.
# # #