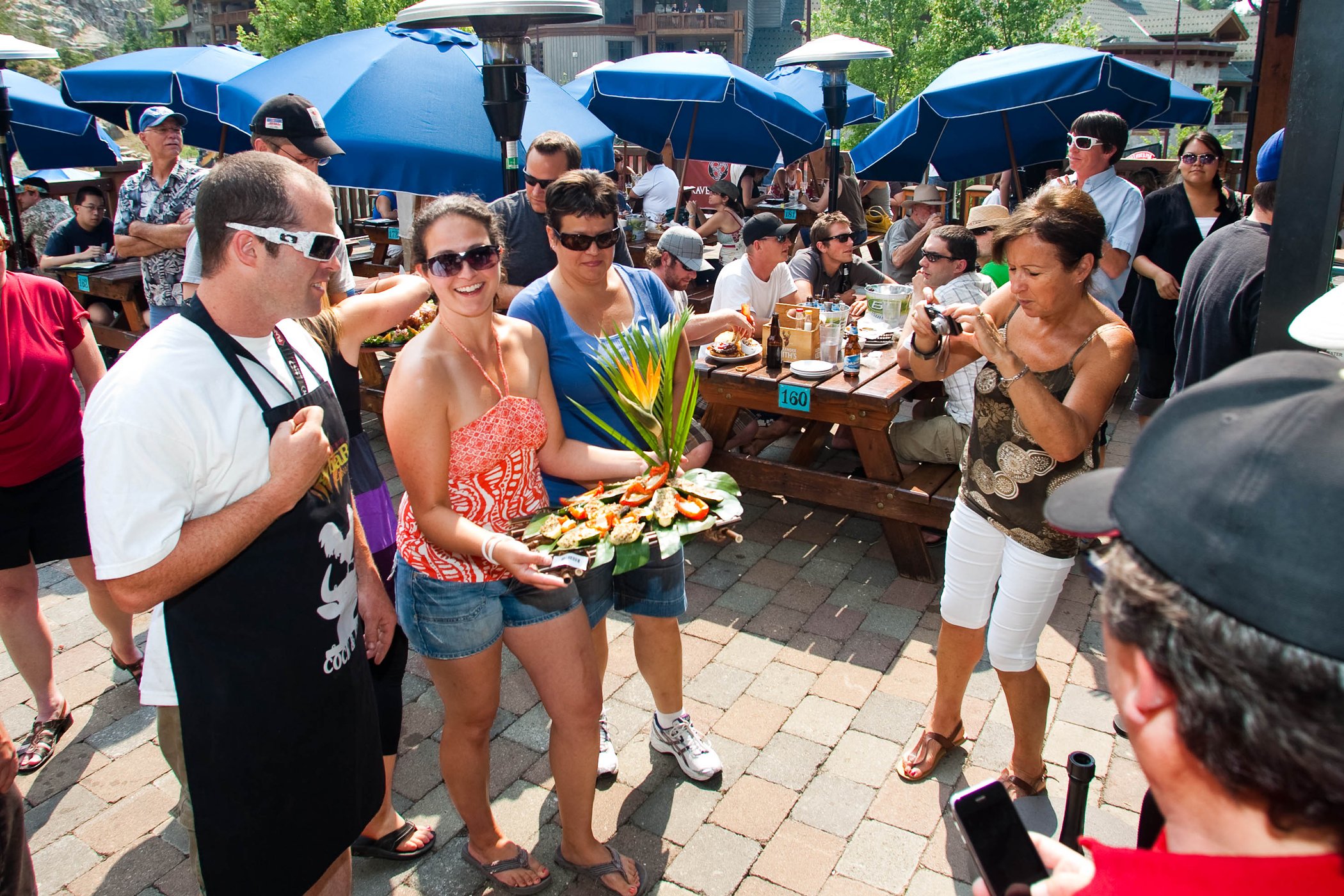 The
Bull's-Eye
Canadian National BBQ Championships return to Whistler for the 11th year in a row, adding a little extra sizzle to the August long weekend. From August 3 through 5, BBQ chefs from all over North America will compete for the honour of "Canadian Champion." Up for grabs is $5,000 in cash and prizes, and an invitation to the World Championship Invitational Barbecue in Tennessee and World Barbecue Championships in Las Vegas, Nevada. For spectators at this year's competition at Dusty's Bar & BBQ in Creekside there are plenty of things to see, do, and taste.
"The BBQ Championships is a must experience event for meat lovers," said Joshua Kearns, Dusty's Bar & BBQ Manager at Whistler Blackcomb. "With great music, a mechanical bull riding activity, and mouthwatering food and drink, it's a great way to spend the B.C. Day long weekend."
New this year, on Saturday and Sunday, guests can purchase one dollar tokens to participate in activities such as the mechanical bull ride or a BBQ food sampler (while quantities last). There will also be hourly prize draws.
Friday, August 3: Festivities Kick-Off
4 p.m. BBQ Judging Class takes place. This course is taught by judges of the Pacific Northwest BBQ Association and educates "wanna-be" judges on how to rate the food that is served over the weekend.
9 p.m. Dusty's presents Whole Lotta Led, a Led Zeppelin tribute band. Tickets are $10 and can be purchased at the door.
Saturday, August 4: Local's BBQ Day
12 p.m. – 5 p.m. local rock band Ruckus Deluxe will be entertaining the crowd.
Amateur BBQ aficionados compete for a chance to win over $2,000 in cash and prizes, split among the winners of the days' events.
1 p.m. the Backyard BBQ Burger Competition presented by Bull's-Eye BBQ Sauce takes place. The winning burger earns the honour of being featured on Dusty's Bar & BBQ menu for a year.
2 p.m. the C.A.S.I International Chili Championships.
3 p.m. the Budweiser King of the Grill competition takes place and requires contestants to submit their best grilled or smoked item cooked on-site to the judges. Each dish must consist of a meat or vegetable or combination of the two.
Registration for the King of the Grill, Chili Championships and Burger Competition is open to the public and can be done online.
7 p.m. is the mouthwatering Whole Hog BBQ Dinner. In addition to pork, the dinner includes: baked beans, tossed greens, and Dusty's famous buns and butt rub mayo. Tickets are $20 and available on site.
9 p.m. the day will be rounded out by music from The Matinée. Tickets are $10 and can be purchased at Dusty's.
Sunday August 5: The Main Event

Professional BBQ chefs will battle it out for the title of 'Canadian Champion" in five categories:
11 a.m. Pork Butt judging
11:30 a.m. Ravenswood Cork & Pork judging
12:00 p.m. Beef Brisket judging
1:00 p.m. Chicken judging
2:00 p.m. Ribs judging
9 p.m. Darren Lee and the Memphis Flash – A Tribute to Elvis will take the stage at Dusty's. Tickets are $10 at the door.
At 4:30 p.m. the awards ceremony will commence. Pacific Northwest BBQ Association (P.N.W.B.A) judges will score all entries with 25 per cent weighted on appearance, 25 per cent weighted on texture/tenderness and 50 per cent assigned to taste.

For more information the Bull's-Eye Canadian National BBQ Championships please visit the event page.

Deals and Packages

This year's Bull's-Eye Canadian National BBQ Championships special room rate starts at $109 per night, valid August 2 to 6, 2012. To plan a trip to the consistently rated No. 1 Mountain Resort in North America this winter, visit www.whistlerblackcomb.com or call 1-888-403-4727.

-30-

About Whistler Blackcomb
Whistler Blackcomb is situated in the Resort Municipality of Whistler located in the Coast Mountains of British Columbia 125 kilometres (78 miles) from Vancouver, British Columbia. North America's premier four season mountain resort, Whistler and Blackcomb are two side-by-side mountains which combined offer over 200 marked runs, over 8,000 acres of terrain, 16 alpine bowls, three glaciers, receives on average over 1,090 centimetres (430 inches) of snow annually, and one of the longest ski seasons in North America. In the summer, Whistler Blackcomb offers a variety of activities, including hiking and biking trails, the Whistler Mountain Bike Park, and sightseeing on the PEAK 2 PEAK Gondola.

For more information, visit http://ww1.whistlerblackcomb.com/media

MEDIA NOTES: Whistler Blackcomb is pleased to provide high resolution photographs available for editorial use, downloadable at the following link http://www.whistlerblackcomb.com/photo/index.htm
Please credit – Photographer Listed, Location: Whistler Blackcomb, British Columbia.

Get Social with Whistler Blackcomb: Find our online communities by visiting http://www.whistlerblackcomb.com/movement. You can also find Whistler Blackcomb on Facebook at Facebook.com/whistlerblackcomb , follow us on Twitter at @whistlerblckcmb and become our friend on Foursquare


Whistler Blackcomb
Whistler Mountain Resort Limited Partnership and Blackcomb Skiing Enterprises Limited Partnership
4545 Blackcomb Way, Whistler, British Columbia, Canada, V0N 1B4
Telephone: 604.932.3141 Fax: 604.938.7527 www.whistlerblackcomb.com