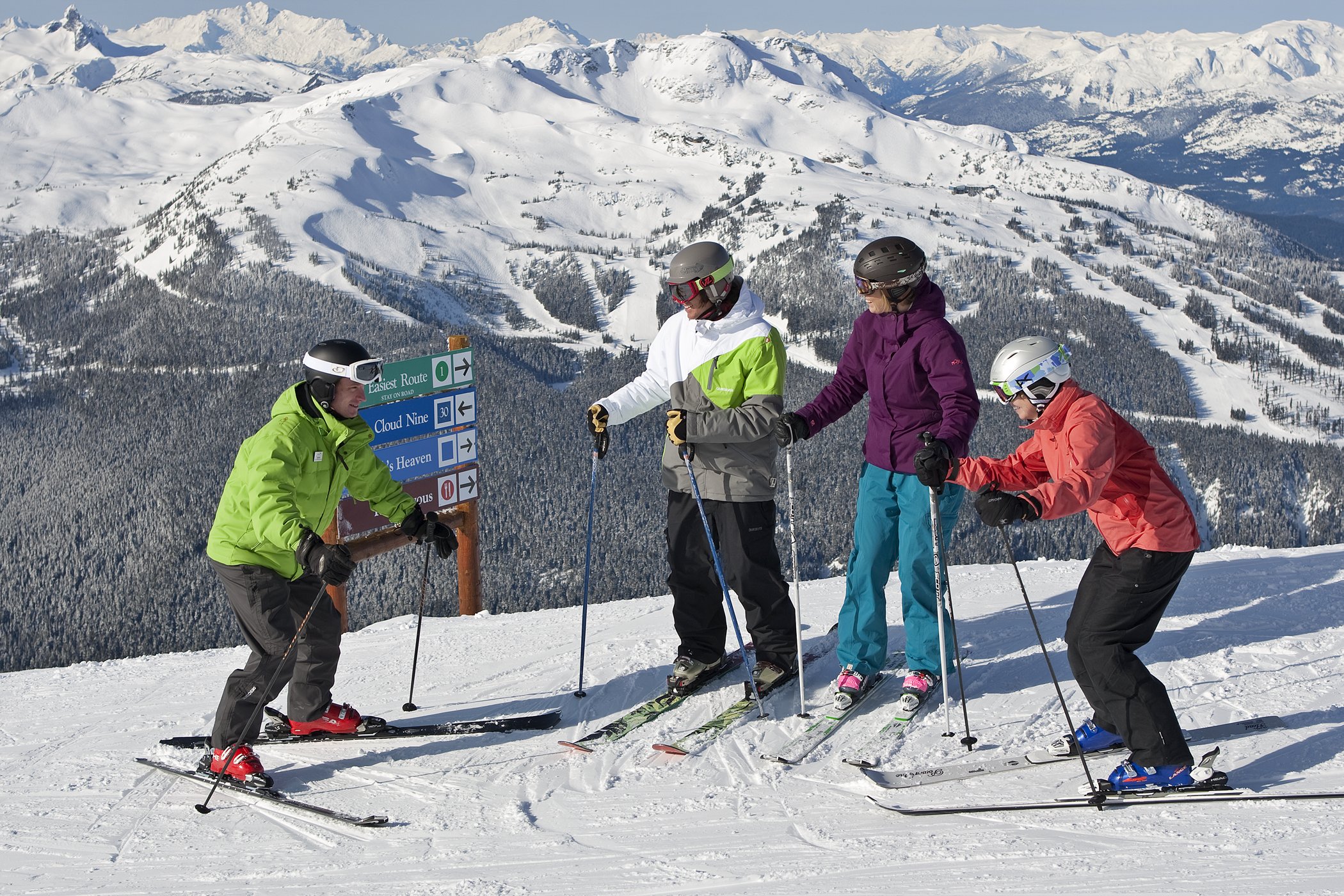 WHISTLER, BC, January 9th 2012 – Whistler Blackcomb is introducing a new program, complementing the popular snow school programs, to help grow the sports of skiing and riding. Whether you are an experienced skier or rider or have never slid on snow, Whistler Blackcomb's Discover Whistler Days, Max4 program, and the special Learn to Ski/Ride for Free weekend will help make the most of any "slide on snow" New Year's resolution.
"Our ski and snowboard instructors are some of the best in the world and are one of the main reasons Whistler Blackcomb is one of the best places to learn to ski or ride," Says Bartosz Barczynski general manager of adult ski and snowboard school. "The exhilaration felt when guests first "get it" is incredible and we would like to help more people experience that incredible feeling. To help inspire, we produced a little video showcasing the delight: the moment it all comes together. The video can be viewed at whistlerblackcomb.com or shared via Whistler Blackcomb's Facebook page."
Whistler Blackcomb's snow school is one of the largest in the world consisting of over 1,100 professional ski and snowboard instructors and more than 50 Canadian Ski Instructors Alliance (CSIA) Level 4 instructors, the most in a single snow school in Canada. Speaking over 26 languages and originating from all over the world Whistler Blackcomb believes its ski and snowboard instructors are the best in the business and there is no better place to learn then from the best.
The signature programs within Whistler Blackcomb's Snow School include:
Discover Whistler Days
From January 2 – February 12, 2012, Discover Whistler Days offers guests 30 per cent off Whistler Blackcomb's adult Max4 lessons and 30 per cent off select kids and teen programs. Book rental equipment online in advance and receive 20 per cent off the in-store price.
Max4 Lessons
All Max4 adult lessons have no more than four skiers and riders per group and anytime during the winter season guests can purchase three consecutive days of Max4 lessons for the price of two. Max4 lessons cater to everyone from beginners to experienced skiers and riders and offer unparalleled value, 30 per cent off, during Discover Whistler Days.
"Never-Evers" Learn to Ski/Ride for Free
January is a month for new beginnings and with small group sizes, one instructor to every four guests, it is the perfect time to get outside and try sliding on the snow. From January 27-29, Whistler Blackcomb will be offering a beginner package giving those who have "never-ever" skied or snowboarded the perfect opportunity to learn. The beginner package includes a full day Max4 lesson, rental equipment, and lift access to the beginner area. The program is limited to the first 600 (200 per day) participants to register. Some restrictions apply, for full details visit whistlerblackcomb.com/learn.
Whistller Blackcomb has ski and snowboard programs to suit whatever your needs and skill levels may be. More information is available online at whistlerblackcomb.com/snowschool.
About Whistler Blackcomb
Whistler Blackcomb, the official alpine skiing venue for the 2010 Olympic and Paralympic Winter Games, is situated in the Resort Municipality of Whistler located in the Coast Mountains of British Columbia 125 kilometres (78 miles) from Vancouver, British Columbia. North America's premier four season mountain resort, Whistler and Blackcomb are two side-by-side mountains which combined offer over 200 marked runs, over 8,000 acres of terrain, 16 alpine bowls, three glaciers, receives on average over 1,090 centimetres (430 inches) of snow annually, and one of the longest ski seasons in North America. In the summer, Whistler Blackcomb offers a variety of activities, including hiking and biking trails, the Whistler Mountain Bike Park, and sightseeing on the PEAK 2 PEAK Gondola.
For more information, visit http://ww1.whistlerblackcomb.com/media
-30-

Proud to be a venue for the 2010 Olympic and Paralympic Winter Games
MEDIA NOTES: Whistler Blackcomb is pleased to provide high resolution photographs available for editorial use, downloadable at the following link http://www.whistlerblackcomb.com/photo/index.htm
Please credit – Photographer Listed, Location: Whistler Blackcomb, British Columbia.