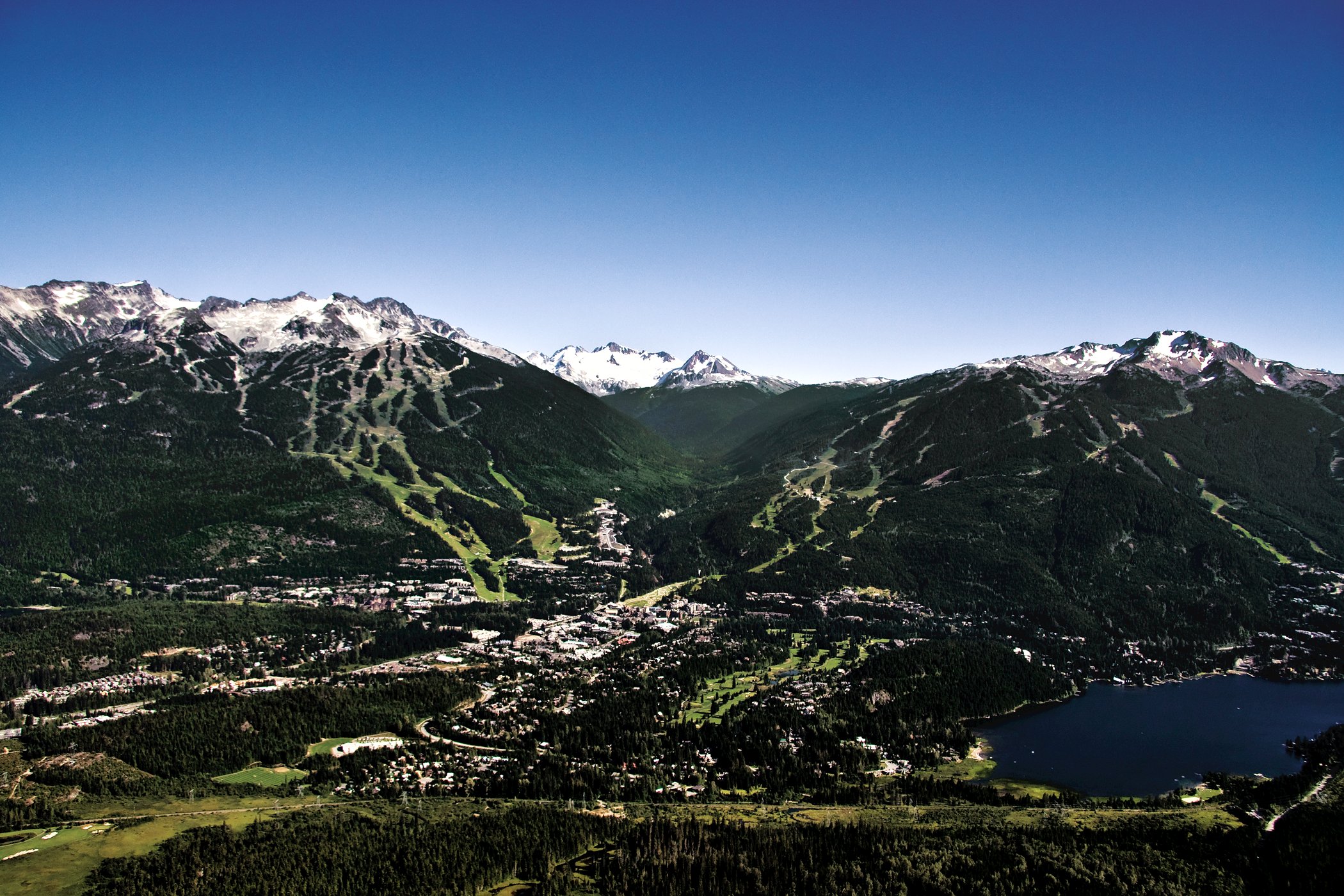 As the rest of the world pauses to appreciate the planet and celebrate Earth Day (April 22), Whistler Blackcomb is also celebrating being named one of Canada's Greenest Employers by the editors of Canada's Top 100 Employers project for the fourth year in a row.

"We are both honoured and humbled to be recognized for our environmental stewardship," says Arthur DeJong, Whistler Blackcomb's mountain planning and environmental resource manager. "Whistler Blackcomb staff live, work, and play in the mountains and being immersed in nature every day inspires us to do our part for a more sustainable future. Environmental stewardship is part of our corporate culture and it is our hope that guests who visit Whistler Blackcomb will be inspired by our actions and perhaps decide to incorporate more sustainable practices into their own lives."

Recognizing that climate change is one of the greatest threats to the environmental health of the planet, Whistler Blackcomb is committed to one day achieving a zero operating footprint and believes in an "Every Step Counts" philosophy. Whistler Blackcomb has been committed to reducing its impact on the planet since the early 90's and has employed an in-house environmental management team since 1997. The team has spearheaded the development of a company-wide Sustainability Policy which outlines Whistler Blackcomb's key areas of focus, including energy conservation, waste management, and guest and staff awareness and education.
The top ten environmental achievements that have led to Whistler Blackcomb being named one of Canada's Greenest Employers in 2012 include:
1. The Fitzsimmons Creek Run-of-River Project: Launched in December 2009, the Fitzsimmons Creek Run-of-River Project is located in the middle of the Whistler Blackcomb ski area underneath the PEAK 2 PEAK Gondola. It is a hydro-powered renewable energy plant, created in partnership with Innergex Renewable Energy and Ledcor Power Group, producing 33 gigawatt hours of hydro electricity every year. The Run-of-River project returns to the grid the equivalent of the annual power consumption of Whistler Blackcomb's entire ski area including lifts, mountain restaurants, and snowmaking.
2. Five Per Cent Annual Energy Reduction Target: Whistler Blackcomb is focused on seeking out clean technologies, fuels and renewable energy sources to meet the company's energy demands. The company has an annual target of five per cent energy reduction including electricity, natural gas and fuel for vehicles. To date, Whistler Blackcomb has;
• changed out more than 11,000 light bulbs to more energy efficient models;
• developed a structured program to conserve energy from snowmaking which is estimated to save over 800,000 kWh per year, and;
• installed several hybrid heating projects in various Whistler Blackcomb buildings that have saved more than 700 tonnes of emissions annually.
In 2011, Whistler Blackcomb surpassed its five per cent energy reduction target and actually saw nearly nine per cent reduction in the company's overall electrical consumption.
In the past year, Whistler Blackcomb has carried out energy reduction projects in partnership with BC Hydro that save 1.5 million kWh or four per cent of the company's overall energy consumption annually. Whistler Blackcomb is also in the process of implementing a number of new energy conservation projects that are estimated to save the company an additional 1.5 million kWh over the next year.

3. The BC Hydro Workplace Conservation Awareness Pilot Project: Whistler Blackcomb is one of five companies in its sector engaging in BC Hydro's Workplace Conservation Awareness Pilot Project. The pilot program is focused on energy conservation through improved awareness and behavioural change. Whistler Blackcomb has a cross-sectional team of 15 staff members from all divisions of the company focused on improving awareness and making conservation part of the organizational culture.
Whistler Blackcomb also has an Energy Management Assessment Team consisting of members of the Whistler Blackcomb Senior Leadership Team and Managers and Supervisors from key divisions of the company. The team creates a yearly energy conservation plan by determining five key areas of focus around energy and reports the company's progress to BC Hydro quarterly.
4. The Whistler Blackcomb Carpool Program: The Whistler Blackcomb staff carpooling program provides transportation for approximately 50 people in five company vehicles every day. The initiative saves 64,155 km of vehicle travel, 86,768 litres of gasoline, and 208,245 tonnes of carbon emissions annually.
5. The White Bike Program: In the summer of 2011 Whistler Blackcomb launched the White Bike Program. The white bikes were introduced by Whistler Blackcomb's environmental team to enable smooth, efficient travel of employees between the company's various buildings in and around the base areas. The bikes are signed out from each building, and signed in at the next building, enabling staff to get around Whistler quickly for meetings, etc.
6. Waste Reduction: Whistler Blackcomb has established a protocol in on-mountain restaurants where staff are responsible for sorting all garbage. Whistler Blackcomb recycles over 30 different types of products, including organic packaging and food waste. In 2009, Whistler Blackcomb reduced its waste by over 42 per cent through large-scale composting initiatives and has continued to improve upon that number ever since. Whistler Blackcomb has also worked towards a zero waste goal through a number of employee-led initiatives, such as the decision to no-longer print the 100 page Employee Handbook and instead make the content available online. Whistler Blackcomb estimates this initiative saves more than 400,000 sheets of paper annually.
7. Eco-Tourism Focused Products: Whistler Blackcomb offers a number of eco-tourism focused products to guests including: Bear Viewing and Ecology Tours; an elaborate alpine trail system with over 50km of trails in Whistler Blackcomb's unique alpine environment; and a number of eco-friendly clothing options such as organic cotton, bamboo casual wear and recycled fleece are available in Whistler Blackcomb retail locations.
8. The Symphony Express Chairlift Project: The Symphony Express chairlift is a high-speed lift that opened to the public in December 2006. Whistler Blackcomb placed habitat protection at the centre of the Symphony Project, which involved expanding terrain into an alpine area known as the Piccolo Peak/Symphony Basin. A project team consisting of a ski area planner, lift engineer, biologist, black bear researcher, and professional forester worked on a sustainable design to accommodate a lift with a 2,400-person per hour capacity, without altering the natural wildlife and fish ecosystems. The team developed a minimalist design that kept wildlife habitat intact and ultimately reduced the project's footprint from an estimated 40 per cent to less than five per cent.
9. The Habitat Improvement Team (HIT): The Whistler Blackcomb Habitat Improvement Team is a community-based, grassroots environmental group comprised mainly of Whistler Blackcomb staff whose mission is to protect, restore and enhance fish and wildlife habitat in the Whistler area. HIT was established in 1997 and is led by Whistler Blackcomb's Mountain Planning and Environmental Resource Manager, Arthur DeJong.
10. The Whistler Blackcomb Foundation Environmental Fund (WBFEF): The Whistler Blackcomb Foundation Environmental Fund is dedicated to providing financial support through fundraising to registered non-profit organizations whose actions show benefit to the natural environment in the Sea to Sky Corridor. The Environmental Fund provides support by way of monetary grants annually which are raised through staff donations and matched by the Whistler Blackcomb Foundation. To date, the Whistler Blackcomb Foundation Environmental Fund has provided over $285,000.00 in sponsorship of 62 projects.
The Canada's Greenest Employers competition is now in its fifth year and is organized by the editors of Canada's Top 100 Employers project in partnership with Mediacorp Canada Inc. The award recognizes employers with environmental programs and policies that actively involve their employees and incorporate environmental values into their corporate culture. The award also recognizes employers who attract employees to their organization (and retain them) because of these values. Whistler Blackcomb would like to congratulate all its fellow nominees.
Every year, The Globe and Mail newspaper publishes a national report on the nation's most environmentally conscious employers in celebration of Earth Day.
For more information on Whistler Blackcomb's environmental story, please visit http://www.whistlerblackcomb.com/mountain/environment/index.htm