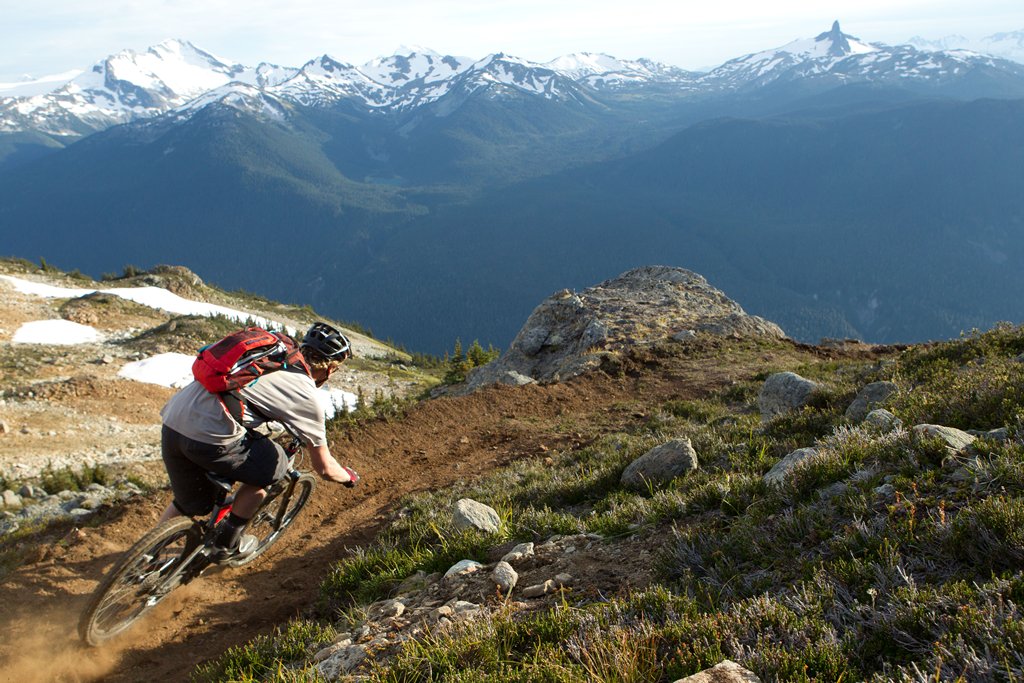 WHISTLER, BC, – The Whistler Mountain Bike Park will be opening its first lift-accessed alpine mountain bike trail to riders this summer. The alpine trail named "Top of the World" will be accessible from the Peak Chair at the summit of Whistler Mountain and will lead riders into the Garbanzo Zone of the Whistler Mountain Bike Park. The opening of the new trail will increase Whistler Mountain Bike Park's vertical by 1,091 feet bringing the total vertical to 4,946 feet. With over 60 trails and 4,946 feet of vertical Whistler Mountain Bike Park offers more trails and more vertical feet than any other bike park in North America.
Beginning at the top of the Peak Chair on Whistler Mountain, Top of the World takes riders through one of the most visually spectacular alpine environments on the planet. A layer of soft tacky dirt covers the alpine trail as it winds its way through three climate zones including Whistler's Alpine Tundra and Mountain Hemlock zones before finishing in a coastal rainforest. Riding in the alpine is a unique experience and Whistler's expansive and vast mountains make it a visually spectacular setting.
"Top of the World will blow your mind," says Whistler Mountain Bike Park Manager Brian Finestone. "It takes the flow Whistler Mountain Bike Park is famous for and drops it on the peak of Whistler Mountain. With some of the world's best riding set against the granite spires of the Coast Range Top of the World is the pinnacle of alpine riding."
One hundred riders each day will be granted access to this special trail. "We want to ensure riding in such a spectacular setting is an inspiring experience," says Finestone.
Riding the Peak Chair will require a separate lift ticket which will cost riders $15 in addition to their Bike Park pass. The Peak Zone ticket will be valid for one upload of the Peak Chair and is recommended for advanced riders.
"Top of the World is a technical downhill single-track trail and is suitable for advanced all-mountain, free-ride and downhill mountain bikers," says Finestone.
The Whistler Mountain Bike Park is scheduled to open for the 2012 bike season on May 18, with the Peak Zone likely opening in mid -July. More information on the Whistler Mountain bike Park can be found at www.whistlerbike.com
Deals and Packages
To plan a trip to the consistently rated No. 1 Mountain Resort in North America this winter, visit www.whistlerblackcomb.com or call 1-888-403-4727. Season long event and festival information is available online along with the most current weather and snow information.
About Whistler Blackcomb
Whistler Blackcomb, the official alpine skiing venue for the 2010 Olympic and Paralympic Winter Games, is situated in the Resort Municipality of Whistler located in the Coast Mountains of British Columbia 125 kilometres (78 miles) from Vancouver, British Columbia. North America's premier four season mountain resort, Whistler and Blackcomb are two side-by-side mountains which combined offer over 200 marked runs, over 8,000 acres of terrain, 16 alpine bowls, three glaciers, receives on average over 1,090 centimetres (430 inches) of snow annually, and one of the longest ski seasons in North America. In the summer, Whistler Blackcomb offers a variety of activities, including hiking and biking trails, the Whistler Mountain Bike Park, and sightseeing on the PEAK 2 PEAK Gondola.
For more information, visit http://ww1.whistlerblackcomb.com/media
-30-
Proud to be a venue for the 2010 Olympic and Paralympic Winter Games
MEDIA NOTES: Whistler Blackcomb is pleased to provide high resolution photographs available for editorial use, downloadable at the following link http://www.whistlerblackcomb.com/photo/index.htm
Please credit – Photographer Listed, Location: Whistler Blackcomb, British Columbia.
Get Social with Whistler Blackcomb: Find our online communities by visiting http://www.whistlerblackcomb.com/movement. You can also find Whistler Blackcomb on Facebook at Facebook.com/whistlerblackcomb , follow us on Twitter at @whistlerblckcmb and become our friend on Foursquare.