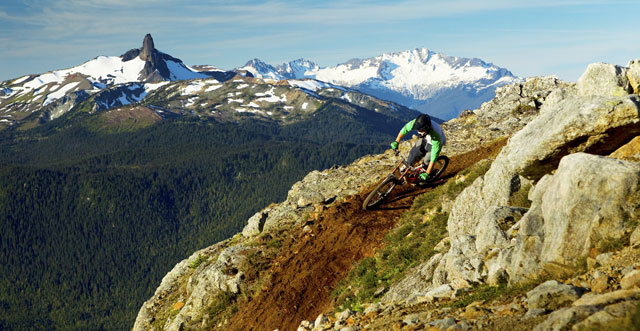 Mountain bike enthusiasts have been eagerly awaiting the opening of the Whistler Mountain Bike Park and this week the anticipation comes to an end. On Friday May 18 Whistler Mountain Bike Park will open 11 signature trails ranging from easy to advanced.

With the phenomenal sunshine and warm temperatures over the past weekend, and forecasted for the coming week, the Whistler Mountain Bike Park will open with 11 trails; A-Line, Crank It Up, B-Line, Heart of Darkness, Ho Chi Min, Monkey Hands, Hornet, World Cup Single Track, Samurai Pizza Cat, Karate Monkey and the Joyride Jump Park. Whistler Mountain Bike Park's current early-season conditions are recommended for intermediate to advanced riders but more beginner, intermediate, and advanced trails will be opened daily.

"Mother Nature has really helped us out over the past few days and will continue to this coming week," says Brian Finestone, Whistler Mountain Bike Park manager. "With some hard work from our trail crews and the warm temperatures we're looking forward to a great opening weekend and Bike Park season."

Early Bird Bike Park Season Passes, Twilight Triple Play Passes and Triple Play Cards are available now for $499 CDN, $249 CDN and $139 CDN (plus tax) respectively. Riders who purchase their Season Passes before May 31 will receive $50 off the regular Seasons Pass, one free Peak Ride ticket and one free early season bring-a-friend ticket valid until June 26. Early Bird Twilight Triple Play Pass or Triple Play Card purchasers will receive an additional free day for use before June 22 as well as the option to load an additional 3 days on to their card or pass for $99 before May 31. Guests can purchase passes online at whistlerbike.com, in person at Village Guest Relations, or by calling 1-800-766-0449.

Starting this Friday, May 18 the Whistler Mountain Bike Park will be open daily from 10am until 5pm. On May 18 access into the Whistler Bike Park will be available via the Fitzsimmons Express with the Whistler Village Gondola opening May 26. Extended play hours, 10am-8pm, kicks off June 16 through September 3. The Whistler Bike Park is open through to Oct 8, 2012.

Riders can also practice indoors in the Air Dome starting May 18. The Air Dome is an 8,400 square foot indoor bike training facility with various jumps, wooden ramps and a foam pit. Full details can be found online at www.whistlerbike.com/information.

For guests looking for rental bikes and gear, Garbanzo Rentals in the Whistler Gondola building will be carrying a selection of Giant full suspension downhill mountain bikes including the Glory and Faith, Kali full-face helmets and Alpinestars body armor. Meanwhile, Garbanzo Bike and Bean (GBB) in the Carleton Lodge will be open from 10am to 6pm daily. GBB offers rental, repair services and features a retail section filled with top-end mountain bikes, clothing, equipment and a coffee bar.

Returning this year to the Whistler Mountain Bike Park is the Demo Centre which will be located inside the Garbanzo Bike and Bean. The Demo center will allow guests to demo a selection of high performance downhill bikes from; Giant, Cove, KHS. Lapierre, Scott, Devinci, Kona,Trek,and Santa Cruz.

This season there are plenty of exciting bike related things to get involved with including the Whistler premier of "Strength In Numbers" taking place at the conference center on May 18th as well as The Crud 2 Mud Downhill race which will be back again on May 27, 2012. Full event details are available at Whistlerbike.com/events.

Take advantage of great spring rates; lift and lodging packages are available from as little as $98 CDN per person per night. For more information about last minute deals and packages visit www.whistlerbike.com/deals.

About Whistler Blackcomb
Whistler Blackcomb, the official alpine skiing venue for the 2010 Olympic and Paralympic Winter Games, is situated in the Resort Municipality of Whistler located in the Coast Mountains of British Columbia 125 kilometres (78 miles) from Vancouver, British Columbia. North America's premier four season mountain resort, Whistler and Blackcomb are two side-by-side mountains which combined offer over 200 marked runs, over 8,000 acres of terrain, 16 alpine bowls, three glaciers, receives on average over 1,090 centimetres (430 inches) of snow annually, and one of the longest ski seasons in North America. In the summer, Whistler Blackcomb offers a variety of activities, including hiking and biking trails, the Whistler Mountain Bike Park, and sightseeing on the PEAK 2 PEAK Gondola. For more information, visit whistlerblackcomb.com.


-30-


Proud to be a venue for the 2010 Olympic and Paralympic Winter Games


MEDIA NOTES: Whistler Blackcomb is pleased to provide high resolution photographs available for editorial use, downloadable at the following link http://www.whistlerblackcomb.com/photo/index.htm
Please credit – Photographer Listed, Location: Whistler Blackcomb, British Columbia.

Get Social with Whistler Blackcomb: Find our online communities by visiting http://www.whistlerblackcomb.com/movement. You can also find Whistler Blackcomb on Facebook at Facebook.com/whistlerblackcomb , follow us on Twitter at @whistlerblckcmb and become our friend on Foursquare.