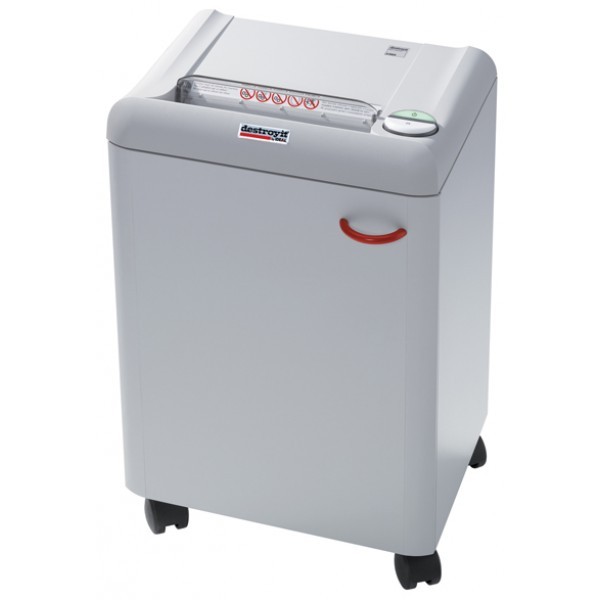 Perfect for low volume shredding, the Destroyit 2360 deskside shredder ensures simple operation and secure shredding. While the level 4 cross cut is a popular model, the Destroyit 2360 is also offered in a strip cut and super micro cut version. Ease of use barely begins to define this shredder. Simply turn on the machine and start feeding paper. Photo cells in the feed opening sense paper and instantly begin shredding. The Destroyit 2360 cross cut shreds approximately 8 sheets of paper at a time. For a cross cut shredder, this may seem like a low sheet capacity. However, the petite Destroyit 2360 has a smaller motor than others and can thus only handle this lower sheet capacity. Keep in mind that sheet capacities in general vary based upon several factors, including grain, size, quality, paper weight and sufficient power supply. Unlike its high security counterpart, the Destroyit 2360 SMC, the cross cut (and strip cut) model handles not only paper, but also paper clips, staples, and credit cards. Shredding 14 feet per minute, your documents are turned into level 4, 3/32 x 5/8 inch particles. These shredded pieces fall into a 13 gallon, environmentally friendly shred bag. This shred bag is durable and reusable, so there is no need to throw it out after one use.
As a deskside shredder, the Destroyit 2360 will most likely be operated quite frequently. Luckily, the high quality, hardened steel cutting shafts can handle the wear and tear. Still worried about potential damage? MBM guarantees a lifetime warranty on the cutting shafts for the cross cut and strip cut models. The durable gears are protected in a dust-proof housing, decreasing the chance of damage or rust. Although a small deskside shredder, the Destroyit 2360 needs to be oiled often to remain in top condition. The single phase motor is powerful and provides quiet operation, a great positive for homes or small offices. This compact shredder will take up little space in your office thanks to its reasonable dimensions (28 3/4"H x 15 1/2"W x 11 3/4"D). Weighing just 53 lbs., the high quality wooden cabinet is extremely easy to relocate around your home or office thanks to the mobility casters.
We know that your documents will be sufficiently destroyed to security level 4 standards. But how does user safety match up? Featuring MBM's SPS (Safety Protection System), the Destroyit 2360 provides several. An electronically controlled, transparent safety shield located in the feed opening locks during operation to prevent harmful shredding. When the safety shield is not fully closed, the shredder will not turn on. Back-lit symbols on the "Easy Switch" control illuminate to indicate when the safety shield or cabinet door are open, and when the shred bag is full. As a time saver, the Destroyit 2360 will automatically power off when the cabinet door is open or when the shred bag reaches full capacity. What about the unavoidable paper jam? If a paper jam occurs, the 2360 will automatically cut-off and switch into reverse to repair the problem. Did you forget to turn off your shredder? No need to worry. The Destroyit 2360 features the ESM (Energy Saving Mode) which shuts down your machine after an hour of inactivity.