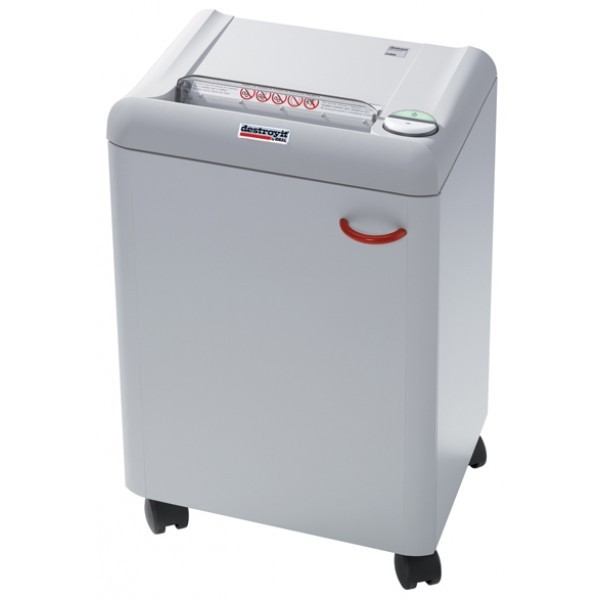 For all of your high security needs, a super micro cut paper shredder produces miniscule particles near impossible to piece back together. These security level 6 pieces actually exceed the highest DIN security level. As a renowned high security shredder, the Destroyit 2360 SMC meets the NSA/CSS (National Security Agency/Central Security Service) specifications and is approved by the US Department of Defense. Unlike cross cut or strip cut shredders, the super micro cut shredders accept a lower number of sheets, yet guarantee the complete destruction of your documents. The Destroyit 2360 accepts between 5-7 sheets of paper at a time. Although this shredder has a low sheet capacity, it proves to be fast and efficient, shredding at a rate of 14 feet per minute. The hardened steel cutting shaft grinds your paper down to 1/32" x 3/16" (.8 x 5 mm) debris. But beware of accidently shredding metal materials such as paper clips or staples. The shredder head on this super micro cut machine can only handle paper. The moment you attempt to shred paper clips, staples, CDs, or credit cards, your shredder head will without a doubt become damaged and break. However, MBM does offer a one year warranty on these cutting shafts if so needed.
An electronically controlled, transparent safety shield covers the feed opening. This safety cover protects your hands, fingers, and clothing from getting caught by the cutting shafts. If this safety shield is ever open, the machine will be incapable of shredding. The "Easy Switch" control system displays operational status with backlit icons. You never need to question why your shredder is being uncooperative. These icons illuminate when the shredder bin is full, cabinet door is open, or if the safety shield is not closed. Paper jams are easily remedied, as this machine will automatically switch into reverse and power off to repair the problem. The Destroyit 2360 will also automatically cut off when the shredder bin reaches full capacity or the cabinet door is open. Double protection against overheating and the "ESM" (Energy Saving Mode) decrease the possibility of expensive repairs. The ESM saves energy by putting the Destroyit 2360 into a sleep mode after an hour of inactivity.
Photo cells located within the 9 ½" feed opening detect paper and immediately begin destroying your files. As soon as the shredder no longer detects paper, it will automatically shut off. Tired of loud and obnoxious shredders making a ruckus in your office? The Destroyit 2360's motor is quite powerful, but operates silently. The durable gears are enclosed in a dust-proof housing, preventing rust or damage. The Destroyit 2360's quality wooden cabinet makes it a force to be reckoned with. Long-lasting and accommodating, the swivel casters on this shredder make relocating easy. Shred particles fall into a 9 ¼ gallon waste bag. This environmentally friendly plastic bag is reusable and makes waste disposal trouble-free. The 2360 is compact, with 11 3/4" x 15 1/2" x 25" dimensions, and weighs just 51 lbs. With high security capabilities and MBM's standard safety features, the Destroyit 2360 SMC is the perfect choice for destroying sensitive and classified documents.