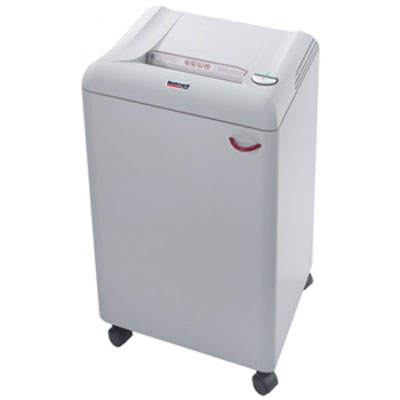 Looking for a centralized office shredder suited for low-to-mid volume shredding? Then the Destroyit 2503 is an excellent choice. While the level 3 cross cut shredder is most popular, strip cut and level 4 models are also available. In any small office, shredder safety and user-friendly operation are both vital features. User safety is guaranteed with MBM's Safety Protection System (SPS). Avoid any harmful shredding thanks to the electronically controlled safety shield located in the feed opening. When the safety shield is open, the machine will be prevented from shredding. Open the shield during operation and the shredder will instantly cut off. This safety cover is transparent, allowing you to keep track of your files as they are being shred. Another safety feature is the multifunctional "Easy Switch" control. Acting as the main activation button, the Easy Switch control also functions as an emergency stop switch. This control button features color codes and back-lit icons to indicate operational status and save you time. These symbols illuminate when the safety shield is open, cabinet door is ajar, or shred bag reaches full capacity. The Easy Switch also offers the reverse key, essential for paper jams and when you oil your shredder. Should a paper jam occur, the Destroyit 2503 will automatically switch into reverse and cut-off power until the problem is remedied. When oiling your cross cut shredder, you always want to make sure your shredder is on and in reverse. With double protection against overheating, you can be sure that the 2503 will never burn out. If you forget to turn your shredder off at the end of the day, no need to worry. The Energy Saving Mode (ESM) will cut power to your machine after one hour of inactivity.
When we say that the Destroyit 2503 offers user-friendly operation, we mean it. Simply plug in the shredder and hit the Easy Switch power button. As soon as you start feeding paper into the wide, 10 ¼" feed opening, your shredder immediately starts destroying your documents. How does this work? Photo cells sense paper in the feed opening and automatically switch into shredding mode. When the last sheet is detected, your machine will instantly cease operation. With a wider feed opening than the MBM deskside models, you are free to shred a greater variety of paper sizes. Depending upon the grain, size, quality, and weight of the paper as well as power supply, the Destroyit 2503 can accommodate up to 14 sheets per pass. It is helpful to note that this is the manufacturer's estimated sheet capacity. The Destroyit 2503 shreds at a rate of 24 feet per minute. High quality, hardened steel cutting shafts tear through paper, staples, credit cards, and CDs and are near impossible to break. To ease any worries or hesitation, MBM offers a lifetime warranty guarantee on these cutting shafts. Once your files hit the cutting shaft, they are broken down into 3/16" x 1 1/2" particles. These cross cut pieces fall into a 26 gallon, disposable shred bag. Shred bags fit on a metal, pull-out frame located inside the wooden cabinet.
The powerful, single phase motor ensures whisper quiet operation and minimal office disturbance. Unlike the deskside models, the Destroyit 2503 is not as compact. Weighing 78 lbs., the 2503 is fairly sized, with 34 1/4"H x 19 3/4"W x 14 3/4"D dimensions. Sturdy swivel casters provide easy movement and portability throughout your office. The Destroyit 2503 boasts impressive shredding capabilities, ease-of-use, and renowned safety features, making it an undoubtedly perfect office shredder.