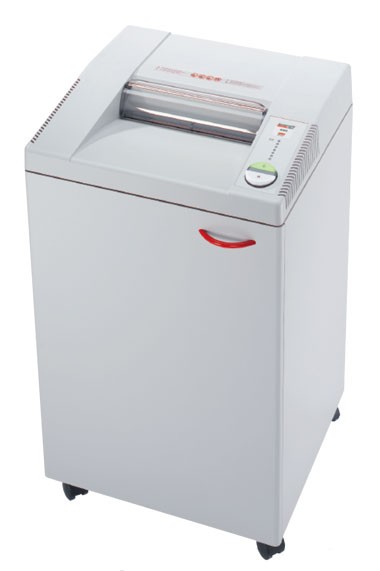 The MBM Destroyit 3104 is a great investment for an office that has need for a low to high-level security shredder. It uses a middle-sized 12" throat and is more expensive than other machines with the same size throat but it is well worth the extra money. This machine can shred not only paper but also staples, paper clips, credit cards and CDs. This is a remarkable benefit because you do not have to worry that your shredder is going to break if you accidentally send a paperclip through it – the machine will break it down as easily as a piece of paper.
Depending which model you choose, the Destroyit 3104 ranges from security levels 2 through 4 and comes in strip cut and cross cut models. The 12-inch feed opening means you don't have to worry about stacking your papers precisely before feeding them into the machine. It has several helpful features to avoid jamming, overheating and other unwanted problems. There is a capacity indicator located on the front right of the machine, right next to the feed opening. The ECC (Electronic Capacity Control) monitors the capacity levels during the machine's operation so you can gauge whether or not you can put more sheets in at once or if you should limit the machine's intake. The shredder also contains an automatic reverse feature as well as an automatic power cut-off to prevent paper jams. The automatic power cut-off kicks in when the shred bin is full or the cabinet door is open. The machine contains double protection against overheating so you don't have to worry about the machine getting too hot. The machine's cabinet door is mounted on high quality metal hinges and the body of the machine is encased in a wooden cabinet mounted on casters for easy transport. There is also an electronically controlled safety shield right over the feed opening as a safety measure. These features make for a very safe-to-use machine because it contains safeguards against many of the things that frequently go wrong with paper shredders.
The Destroyit 3104 is an efficient multi-feature shredder that is an inexpensive bargain. Depending on which model you select, the machine can shred between 14 and 30 sheets of paper at one time. It is important to remember that as you the machine more and more, the maximum sheet capacity will decrease if the machine is not properly oiled. Remaining conscious of how often the machine is being used and oiled will help maintain its high level of productivity over months of years of use. The Destroyit 3104 is relatively compact – its dimensions are 18.5 x 21 x 36.5 (depth x width x height) and its shipping weight is 132 lbs. This makes for a high quality, high performance machine that can fit in small corners and will not take up much space. Something to keep in mind when ordering this shredder is that shipping can be very expensive if you do not have a loading dock. Also, the machine has no auto oiler so keeping tabs on the oil level is very important. All in all, the Destroyit 3104 is a great value and would be ideal for a small to medium sized office.