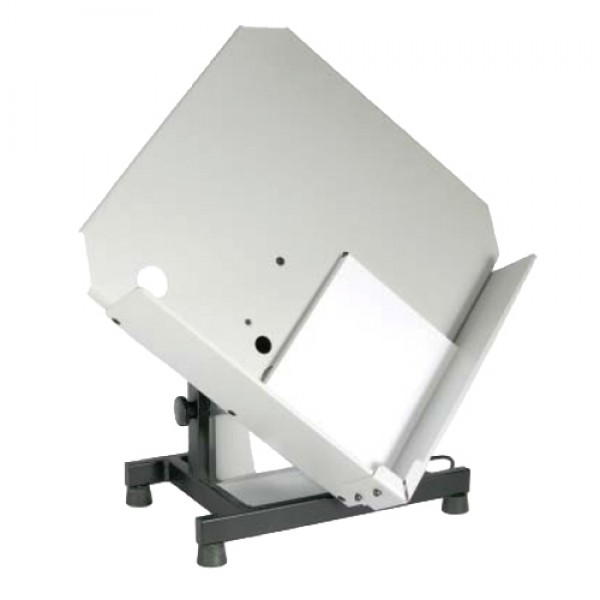 Do you have an upcoming high volume project that requires perfectly aligned and static free paper? Any project involving a copier, folder, inserter, booklet maker, etc. require the same machine to ensure your documents are accurately straightened before commencing operation. The ideal companion to these heavy-duty finishing machines is none other than the Martin Yale 4200 paper jogger.
A larger and more powerful version of the 400 jogger, the Martin Yale 4200 offers greater flexibility and compatibility. The design of the 4200 is what attracts most customers compared to the design of the 400 jogger. Unlike the 400 jogger which has a four-wall design, the 4200 features three walls. This spacious, open tray design seems to be helpful in regards to loading and unloading large paper stacks. Although the closed tray design protects your paper from potential damage, the open construction is more convenient for rush projects and makes inserting the paper much easier. This open tray can be tilted and angled in order to accommodate a variety of paper sizes, from very small to very large paper stock. While the Martin Yale 400 jogger accommodates either a half or full ream of paper, the 4200 jogger specifically handles up to 17" x 22" x 3" inch stock.
The Martin Yale 4200 produces high vibrations in order to eliminate static electricity from your paper stock and decrease the number of sheets that stick together. Forget the tiresome burden of manually straightening your stacks of paper. These vibrations also aid in perfectly aligning your sheets of paper and makes for easier paper processing and decreases the chance of paper jams or other malfunctions. Simply place your paper stack into the tray, press the activation button located on the back of the jogger, and watch as your sheets are almost instantaneously lined up and removed of static. Need to slow down your jogger's speed to handle smaller sized paper? The variable speed control allows you to determine the right pace for each individual jogging project. The durable, heavy-gauge steel construction guarantees that this jogger will last you for years. Weighing 45 lbs., the Martin Yale 4200 (26 1/4" x 17 1/2" x 27 3/4") can be relocated around the office with little effort. Due to the high vibrations, it is important to keep the 4200 jogger on a level and hard-wearing work surface. The 4200 is significantly more expensive than the 400 jogger, yet the benefits of purchasing this paper jogger as abundant. Pair this paper jogger with high speed copiers, folding machines, printing presses, cutters, perforators, etc. to expedite your high volume projects. The Martin Yale 4200 produces organized and static-free paper stacks and is highly recommended for print shops and copy centers.