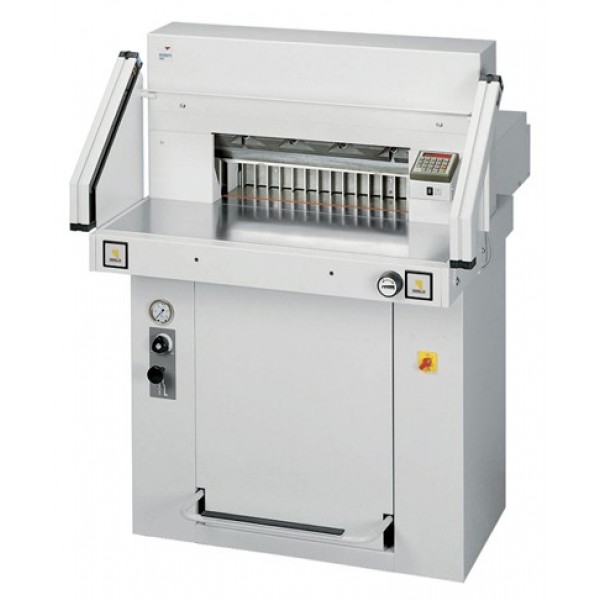 The Triumph 5551-06 EP offers powerful hydraulic cutting ability and high capacity programmable options. With a cutting width of 21 5/8 inches and considerable cutting height of 3 5/8 inches, the Triumph 5551 is proven to be the perfect machine for efficiency and skilled precision. The hydraulic cutting blade and clamp drive guarantee increased productivity, decreased manual work for the operator, truly precise cuts, and mark-free cutting of your paper. Configure your settings and measurements without trouble with the programmable EP back gauge control module. This control panel features a 10 button keypad with clear LED display. With a high storage capacity, the Triumph 5551 is capable of holding up to 99 programs (up to 99 steps each) in memory. Up to 9 repeat cuts can be integrated into each program in one single step. This high storage capacity is perfect for those who require frequently used measurements for each of their cutting projects. The digital measurement readout is displayed in either centimeters or inches and is accurate to 1/10 mm or 1/100 inch. This control module also features repeat cut, eject, and "set" functions.

Would you prefer to adjust the electric back gauge manually? The variable speed hand wheel located underneath the keypad allows for manual alterations. Stay alert to any problems or cutting errors thanks to the self-diagnostic system on display. Even after programming your projects or manually inputting your measurements, you can be 100% certain your cut is accurate thanks to the LED cutting line. The variable clamping pressure can be regulated for different paper characteristics. The dual side guided clamp applies even pressure along your entire cutting width and is fully adjustable between 1,900 and 3,800 psi. The foot pedal is multifunctional, as it activates the pre-clamp and the LED cutting line, and the false clamp prevents document indentation.
Triumph cutters are some of the safest paper cutters on the market thanks to MBM's standard SCS® (Safety Cutting System) comprehensive package. You never have to worry about harmful cutting with the Triumph 5551, which features a clear safety cover on the rear table. When the safety cover is "up," the cutter will be prevented from cutting. The front safety light beams detect hands or arms in the cutting zone and prevent operation until the cutting zone is clear. The main switch is conveniently located in case of an emergency. Cutting is completely electronic and requires two-hand operation. By pushing two buttons, the blade swiftly cuts your paper stack, ensuring the operator's safety. The cutting blade and clamp simultaneously act and return automatically from any position. Should there be a problem with your project, the Triumph 5551 offers a disc brake that instantly stops the cutting blade. Worried about the burden of changing the HSS Solingen steel cutting blade? The Triumph 5551-06 comes with a trouble-free, blade changing device, which covers the cutting edge of blade. You can also adjust blade depth easily from outside of the machine.
Although the Triumph 5551-06 EP is a monster of a machine, weighing approximately 970 lbs., the swivel casters help make relocating this paper cutter around the office. The durable all-metal construction guarantees this Triumph cutter will last you for years without fail. Optional front and rear side tables with stainless steel extend your work area and act as great storage for your extra paper stacks. This Triumph cutter without a doubt handles a massive amount of paper and ensures precise cutting for each project. Overall, we recommend this heavy duty, Triumph 5551-06 EP hydraulic cutter for any business with a demand for high volume cutting projects.