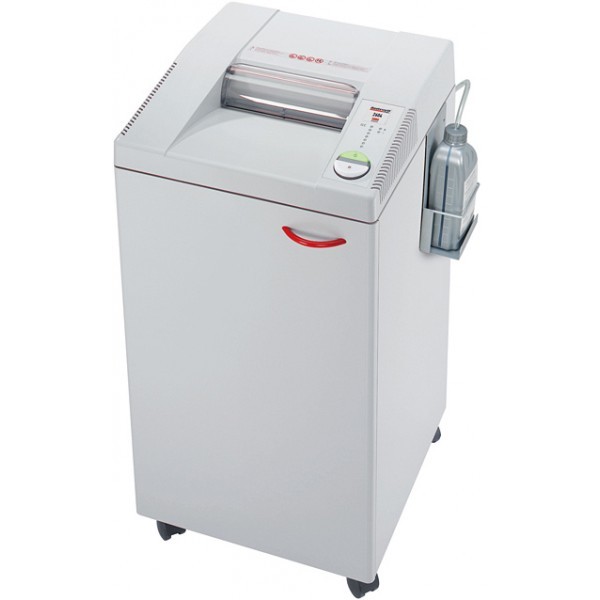 In the realm of shredders, several models stick out as obvious and proven customer favorites. Although the specifications for this shredder seem common, the Destroyit 2604 cross cut is jam packed with fantastic shredding capability and technology. As a level 3 security shredder, your important documents are broken down into small, cross cut pieces. Level 3 security is defined as producing shred no larger than 3/16" x 3," and is proven to adequately destroy documents containing personally identifiable information. This PII could comprise of anything, including your social security number, bank statements, or credit card bills. The 10 ¼ inch wide throat handles a considerable amount of paper per pass, between 20-22 sheets. Keep in mind, sheet capacity varies with grain, size, quality & paper weight and sufficient power supply. This shredder processes your documents, as well as paper clips, staples, CDs, and credit cards, at a decent rate of 18 feet per minute and breaks you files down into 3/16 x 1 ½ inch particles.
Yet it's not just the incredible shredding capabilities that make this Destroyit 2604 a fan favorite. MBM's advanced technology and features prove the 2604's excellence. The first notable feature is the "Easy Switch" control. This control allows you to activate your shredder and put it into reverse. Want to know why your shredder isn't working? The Easy Switch panel displays back-lit icons, indicating when the cabinet door is ajar, the safety shield is open, or the waste bin is full. All of these circumstances would cause your machine to cease operating automatically. A second popular function is the ECC (Electronic Capacity Control) gauge, which indicates sheet capacity levels and how much paper your shredder can handle at a time. Similar to a traffic light signal, this indicator is located at the top right of the shredder, lighting up to display the various sheet levels. If you stay in the green zone, then you should never encounter a paper jam. However, once the lights transform from green to yellow or red, you are risking a paper jam or other shredder malfunction. We recommend that you stay clear of overloading your shredder or be prepared for a hefty service charge. With the SPS (Safety Protection System), you never have to worry about dangerous shredding. Finally, the ESM (Energy Saving Mode) cuts off the shredder's power after an hour of inactivity to prevent overheating and cut your electricity bills.
The Destroyit 2604 weighs 123 lbs. and offers 36 1/2"H x 19 1/2"W x 18 1/2"D dimensions. That being said, this cross cut shredder will not take up much space in your office mailroom or copy room. Although this is not a heavy duty shredder, it stills weighs a fair amount. So how do you move it around the office? This MBM machine is mounted on swivel casters, making relocation a breeze. These casters are not flimsy or easy to break like typical casters. Rather, these casters are sturdy and near impossible to damage or break, proving MBM's reliable and durable construction from top to bottom.
Customers have raved about the hushed, near silent, operation of the 2604. The "twin drive system" is protected by the dust-proof gear box housing, which helps reduce noisy operation and office disturbance. The powerful, single phase motor is rated for continuous operation. Our customers also love the long-lasting waste bin and find it makes waste disposal faster and easier than just using shredder bags. But above all else, the automatic oiling system is the cherry on the cake. The Destroyit 2604 comes equipped with an auto oiler, located conveniently on the side of the shredder. This auto oiler lubricates the cutting shaft while its working, guaranteeing that it will run at its top condition at all times. If you are looking for a reliable, mid-size, and efficient machine, then the Destroyit 2604 is a perfect choice for you.