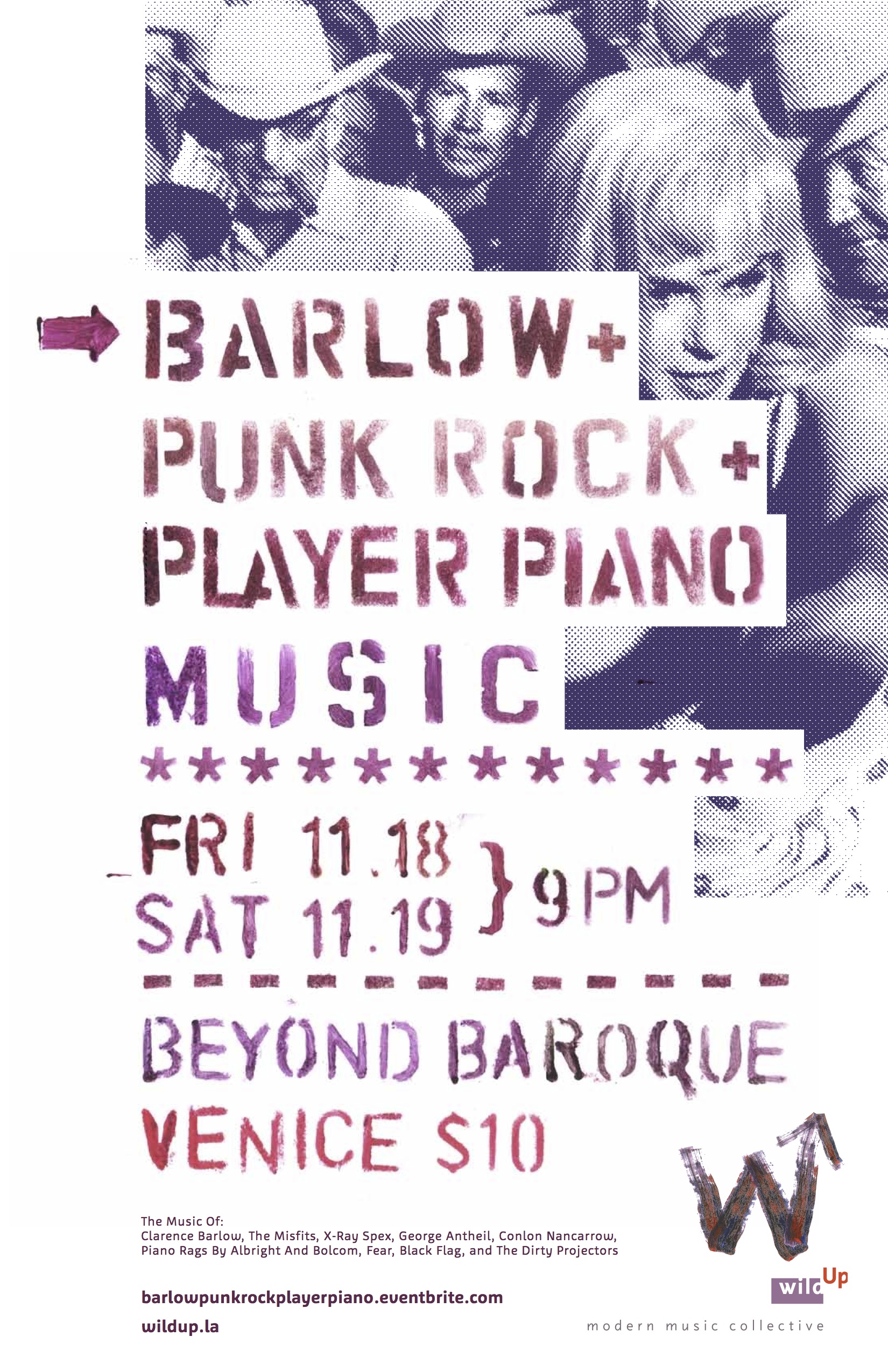 LOS ANGELES – For two nights at Venice's Beyond Baroque, rebar will be struck and lyrics will be screamed as the adventurous local chamber orchestra
wild Up
takes on the hypercomplex computer music of Clarence Barlow with an exuberant set of Barlow's works, plus the composer's 19th and 20th century influences: player pianos and punk rock.
"This is a guy who uses computer programs to cover Prince's 'Sexy MF,'" said Wild Up conductor and artistic director Christopher Rountree. "We'll bring the earplugs."
The program will include Barlow's "Septima de facto," pieces by George Antheil and Conlon Nancarrow, a set of piano rags, and interpolations of seminal punk rock songs by The Misfits, X-Ray Spex, Fear and Black Flag.
The Nov. 18 and 19 performances mark wild Up's debut at Beyond Baroque, one of West L.A.'s signature cultural spaces.
Note: The press is invited to an open rehearsal Nov. 10 from 7-10 pm at the Pasadena Playhouse loft as well. Recording equipment and cameras are welcome.

What: "Clarence Barlow, Punk Rock and Player Piano Music"
Where: Beyond Baroque, 681 Venice Blvd., Los Angeles, CA
When: Friday 11/18 at 9 PM; Saturday 11/19 at 9 PM (the program will be the same both nights)
About wild Up:
wild Up
is a 24-member experimental classical/contemporary ensemble comprised of Los Angeles musicians committed to creating visceral, thought-provoking happenings. The group, led by artistic director and conductor Christopher Rountree, unites around the belief that no music is off limits, and that a concert space should be as moving as the music heard in it: small, powerful and unlike anything else. wild Up projects bring people together, defy convention and address the need for heart-wrenching, mind-bending experiences.
For free mp3 downloads: wildup.bandcamp.com.