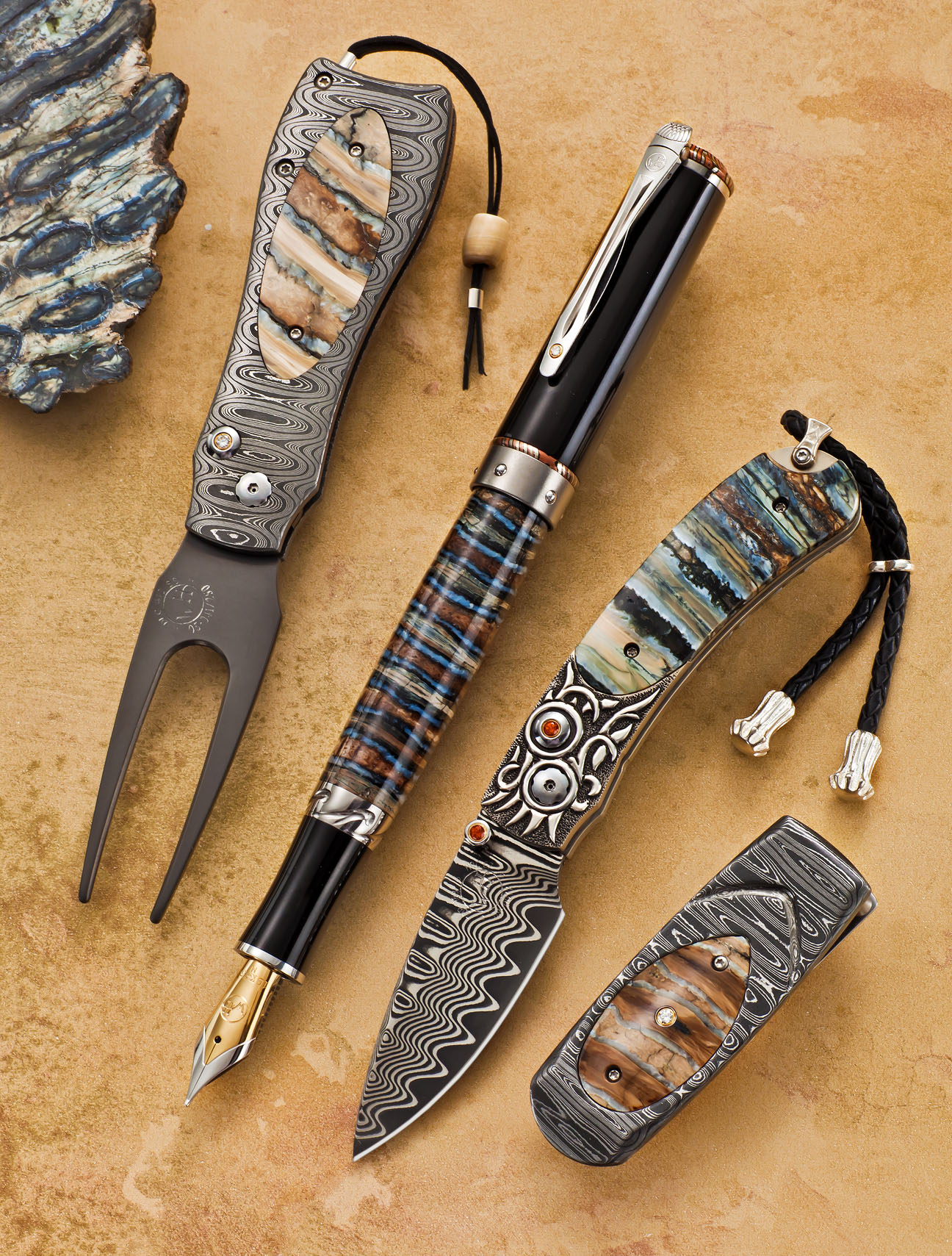 Imagine being at a board meeting and pulling out of your pocket a pen made with 10,000 year old fossil Mammoth. Yes, a real piece of a Wooly Mammoth.
The RB8 pen is the latest addition to the stunning Fossil Series presented by William Henry Studio at the
JCK Show
in Las Vegas. Folding knives, money clips and golf divot tools are the other protagonists of this
unique range of functional jewelry that responds to men's growing passion for luxury accessories
, from the boardroom to the golf course.
"Our pens are among the most perfect writing instruments in the world: the flawless mechanism, the innovative design, the details in gold and mokume, make them
pieces of true functional art and jewelry
, says Matt Conable", founder and designer of WHS.
But what really captivates the imagination are the fossil materials used for the collection:
fossil walrus ivory, wooly mammoth bone and tooth, and 100,000 year old fossil brain coral
complete the range of rare and exotic materials WHS incorporated in this series. Brilliantly combined with titanium alloy, ebonite, hand-forged metals, and inlaid gemstones, these fossil materials give men a chance to own a piece of functional art that is at the
leading edge of modern technology and design
, yet imbued with a rich and unique history.
Over the past 4 years
men's purchases of jewelry and luxury accessories have increased at almost twice the pace of women's.
"There was a time when men walked into our store only on their wedding anniversary or to buy an engagement ring" says Tony Vorell, store manager of Jeweler's Touch, a full-service jewelry store in Orange County. "Things are changing rapidly: now men are interested and curious about style and fashion.
And they are purchasing jewelry for themselves".Functional jewelry is the perfect answer to this emerging and sophisticated demand.
Men prefer to purchase something they can actually use versus a pure fashion statement; they are more comfortable spending their money on a functional piece like a watch or a pen. WHS offers them just that:
the perfect marriage of jewelry with superlative function and art
, the possibility to `wear' a golf divot tool, pocket knife, money clip or pen with the same pride and confidence a woman wears a precious necklace.
Sold in select stores in the US and abroad, the vast collection attracts women as much as men, celebrities included.
Brides Magazine in their April issue 2011, featuring the British Royal Wedding, picked the Coral Sea folding knife as a
gift suggestion to Prince William from Kate Middleton.
"There are many celebrities who purchase from WHS and we do have several Royal families among our regular customers", adds Conable.
The rare and exotic materials make every piece truly unique and come with a fascinating and powerful story to tell:
whether it's the wooly mammoth, harvested at the bottom of the North Sea, or fossil coral which is only found in lime pits in the Florida keys, the WHS fossil collection is like a canvas where art and design capture timeless and amazing fragments of history.
Like the very best jewelry, these are pieces
created to be used, appreciated and admired for a lifetime,
before being passed down to another generation.
# # #