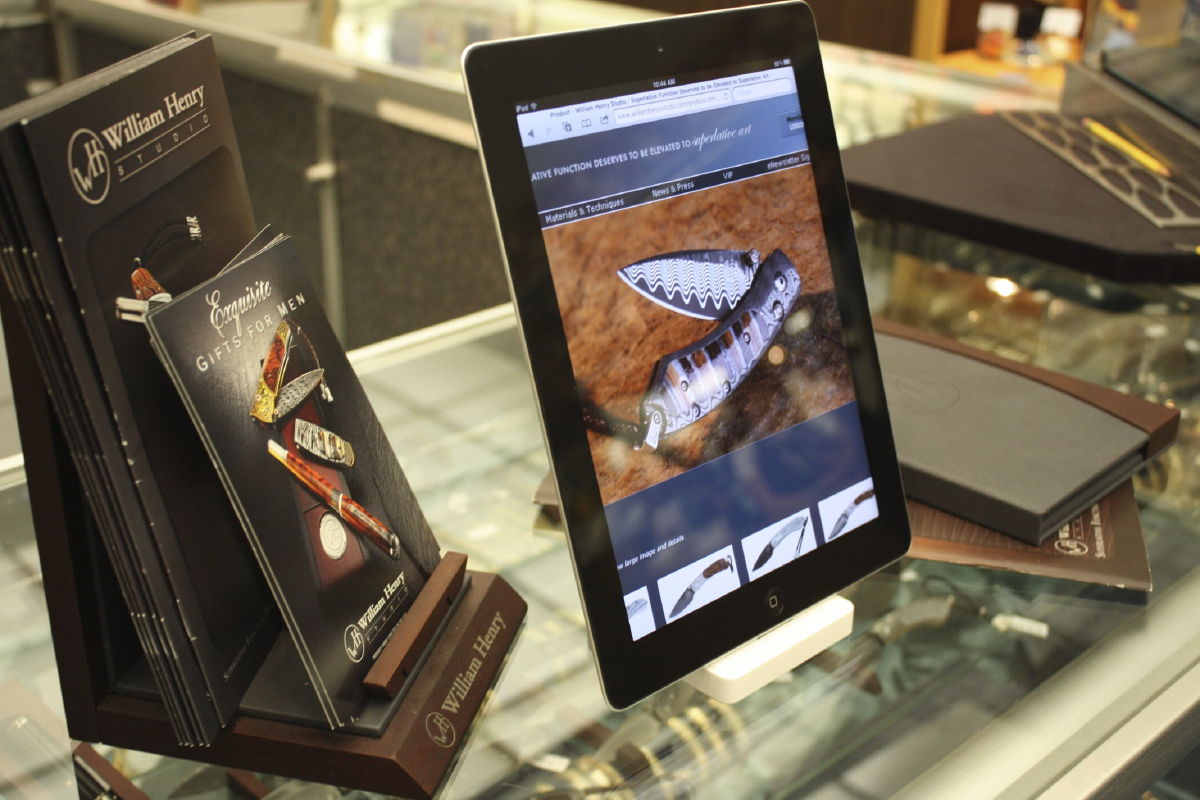 William Henry Studio announced it will start shipping Apple iPads to its dealers on May 16th. Pre installed on the tablets is the newly developed WH software called 'Spotlight' which will help dealers
showcase and sell the William Henry collection
. In one of its broadest marketing moves to date, the Oregon based company also announced it will make its catalog
available for sale online
.
The iPads and 'Spotlight' are developed to effectively
showcase WHS in stores and assist dealers
in presenting and selling the WHS superlative line of functional art and jewelry.
Not only a slideshow of striking images of the WHS collection with product details and celebrities, Spotlight also includes a series of short entertaining
videos on materials and manufacturing techniques
hosted by company founder
Matt Conable
.
"The qualities and origins of the exotic materials we use and the distinctive patterns and designs created by our artisan forgers and engravers make WHS a fascinating, but complex story to tell", says company founder Matt Conable.
"Our dealers are extremely knowledgeable and skilled, but we cannot expect all of them to know the intricate details of our materials and work at WHS. The Spotlight App on our iPad takes less than 10 minutes to master, and it effectively allows
WHS to talk to the customer on the dealer's behalf
".
The iPad and Spotlight will also allow store associates to
register their customers
with the WHCommunity.
"This registration allows us to permanently
link dealers to their customers
- adds Conable. If any of their registered customers should ever decide to purchase directly from William Henry, we will immediately be able to link the customer to the dealer"
WHS will compensate the dealer with most of the profit associated with sales made to his registered customers.
"Dealers will be making
profit on sales they otherwise may never realize
, sales handled with inventory they never have to own"
William Henry Studio's iPad and Spotlight program is the central element of the company's broader strategy to put
customers at center stage while consistently investing in our dealers
.
WHS announced that authorized
dealers will be able to start selling WHS on their own websites
starting on May 16th.
WHS will also allow customers to buy directly on its website.
"We remain convinced that our pieces are
best purchased in person at a brick&mortar store
. However, we recognize that we are not able to serve all of our customers by geography alone", says Matt Conable. "If a customer comes directly to us, we will explain to him the advantages buying in person from one of our retailers. But if he still wishes to purchase one of our pieces online, we feel
we cannot say no
to him".
"
We will not allow any of our dealers to sell on marketplaces like eBay"
- says CEO Dave Boeckel. "This type of online marketplaces do not provide the necessary framework and authoritative value positioning to effectively support the image of the William Henry brand".
By saying yes to online sales, William Henry Studio recognizes the rules of the globalized market and puts
customers at center stage
. At the same time, by developing the Spotlight&iPad program, WHS puts its
dealers at the center of its most important marketing investment to date
.
###