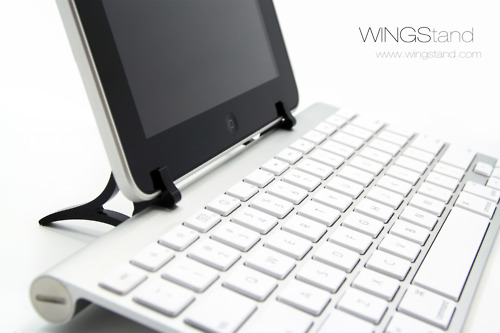 BOULDER, Colo. - When 19-year-old Daniel Haarburger was a freshman at Stanford, he couldn't help but notice that his two roommates' relationships with their tablet computers were - lackluster. One used his iPad solely for watching movies. The other hardly used his at all. And all of them lugged their heavier laptops to class to take notes. Considering the tablets' significant computing power, their underuse seemed tragic, not to mention wasteful. But Haarburger, the young recipient of numerous design and entrepreneurial awards, didn't view the problem as usability flaw, rather a significant design challenge. How could he use design to change the perception of tablets from a glorified smart phone to a powerful, portable computer?

Haarburger's preliminary research led him to the all-too-obvious reason his fellow students were clinging to their everyday laptops: laptops had ergonomic keyboards; tablets did not. He also found that the tablet typing challenge wasn't just a collegiate problem, but a growing frustration of touchpad users across the globe (and according to some studies, the number one frustration).

Other entrepreneurs had tried to bridge this gap by designing portable keyboard systems for the tablet, but market feedback implies they've done so at the cost of comfort and clunkiness. After only a few weeks in Stanford's rapid prototyping lab, where students can quickly print 3-D renderings of their digital design concepts, Haarburger felt he had crafted a much better answer.

Dubbed the WINGStand, Haarburger's elegantly simple solution to tablet typing woes weighs less than a key and takes up roughly the same amount of space. Its primary function - uniting a multi-touch device with Apple's own wireless keyboard - gives tablets the same interactive capability as traditional computers in a manner that is aesthetically pleasing, ergonomically correct and completely portable. Pleasantly, The WINGStand is compatible with Apple products, including the iPad, iPad2 and iPhone, but also works with all other tablets presently on the market. The intelligent design also supports any device orientation, even serving as a stand independent of a keyboard. And the best part? WINGStand will retail at approximately $20 dollars per set.

To fund the manufacturing process of WINGStand, Haarburger recently launched his product on Kickstarter, the popular micro-funding website used by entrepreneurs worldwide. In its first few days, WINGStand had already caught the attention of over 65 backers, taking the project over halfway to its funding goal of $9,500.00. To learn more about WINGStand, visit www.WINGStand.com. To support Haarburger in his quest to solve the woes of the everyday tablet-typer, help fund WINGStand on Kickstarter at http://kck.st/WINGStand.

About Daniel Haarburger
Daniel Haarburger is a design-oriented entrepreneur studying at Stanford University. Born and raised in Boulder CO, he has produced innovative products ranging from backpacking equipment to refugee tents and won many awards including the National Scholastics Art Competition (design portfolio). Currently in the midst of several entrepreneurial endeavors at Stanford, Haarburger identifies the WINGStand as a product that "can bring new potential to tablet computing." To help fund the WINGStand, visit http://kck.st/WINGStand by August 26, 2011.