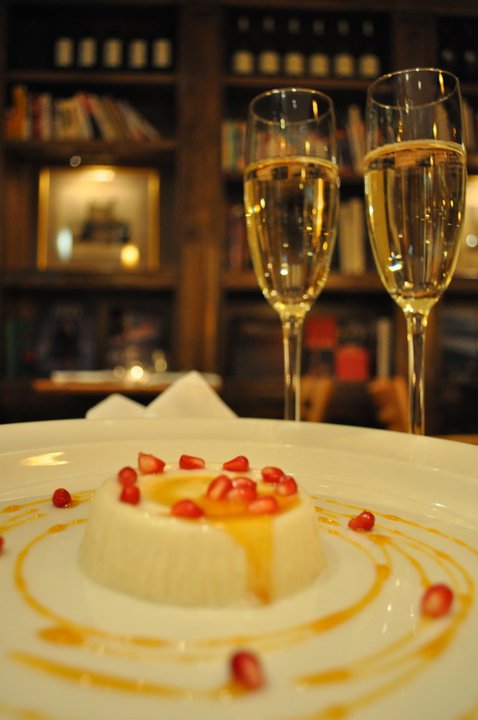 Let's drink, let's drink from this chalice of joy!

Let's drink, let's drink from this chalice of joy!
Contact: Thomas Sitzer / 413.637.9887 / tom@winstanley.com
Great Barrington, MA: What better way to celebrate the season of love than relishing Natalie Dessay's performance of Violetta in Verdi's "La Traviata," paired with the soulful delicacies of Fiori Restaurant's northern Italian cuisine?
Life is folly, and only pleasure counts. After spending the afternoon at one of the country's oldest theatres, stroll hand-in-hand to Fiori and explore the offerings of Chef Alex Feldman.
Begin your meal with the legendary Prosciutto di Parma, a classic salumi of Verdi's home region.
An excellent Primi: Tagliatelle con i Funghi, a pasta of Emilia, celebrates the finezza and organic beauty of northern Italian dining.
Secondi: Loin of pork and rosemary-glazed carrots to enjoy slowly and with relish.
Dolci: Choose from a selection of torti, gelati, and other rich deserts. The Cannoli al Ricotta suits the traditional tastes, but Violetta herself would indulge in the lusty Strawberry-Bourbon Milkshake.
Fiori's full Dinner Menu:
3 courses $30 4 Courses $40
Antipasti
Antipasto Misto For Two 18
Salumi, cheeses, olives, pickles, and other house specialties
Mixed Greens 7
Local organic greens, red wine vinaigrette, crispy shallots
Arugula 9
Equinox Farms arugula, pecorino, apples, chestnut honey, lemon vinaigrette
Verza 8
Salted verza cabbage, anchovy garlic vinaigrette, pomegranate seeds, toasted hazlenuts
Cauliflower Zuppa 8
Cauliflower soup, crispy prosciutto
Delicatta 9
Roasted delicatta squash, oil poached garlic, aged red wine vinegar, ricotta salatta, fried sage
Primi
Risotto Sardo 17/25
Cask-aged carnaroli rice, Lahey Farm pork, tomatoes, thyme (Allow 30 minutes)
Lasagne Verdi alla Bolognese 16/24
Sheets of nettle pasta, grass-fed beef and local pork ragout, crema, Parmigiano
Tagliatelle con i Funghi 15/23
Hand rolled pasta, oyster mushrooms, thyme, Parmigiano, Blue Hill Farm egg
Babbo Linguini Nero 16/24
Hand rolled squid ink pasta, pancetta, parsnips, chives, pecorino
Spaghetti 17/25
Hand- made spaghetti, duck ragu, pumpkin puree, aged balsamico
Secondi
Ortaggio 22
Lentils, seared kale, rosemary-glazed carrots, Brussels sprouts, potato puree
Crispy-Skinned Trout 27
Seared trout, Adriatic kale, grilled king oyster mushrooms, lemon, olive oil
Pollo "Arrosto" 26
Roasted local organic chicken, pancetta caramelized Brussles sprouts
Lahey Farm Pork Loin 29
Wood-grilled pork loin, herbed troffi, rosemary-glazed carrots, pear mostarda
Cod Cheeks 24
Seared atlantic cod cheeks, roasted delicatta squash, herbed farrotto, white wine braised fennel
Bistecca 23
Wood-grilled hanger steak, pancetta-caramelized onion mash, balsamico
–or- a bed of Equinox farms arugula with lemon and salsa verde
Contorni 5
Lentils • Pancetta-Caramelized Onion Mashed Potatoes • Grilled King Oyster Mushrooms
Seared Kale • Pancetta Brussels Sprouts
About The Mahaiwe
The Mahaiwe is a unique year-round performing arts center presenting music, dance, theater, opera, and classic films in the southern Berkshires. The theater seats almost 700 audience members. The Mahaiwe strives to welcome the broadest possible community into our theater on an ongoing basis.
Contact Information & Directions for The Mahaiwe
About Fiori Restaurant
Fiori restaurant was founded in 2011 by brothers Alexander and Matthew Feldman, and specializes in handcrafted and authentic Northern Italian cuisine, featuring house-made selections of bread, cheeses, pasta, and gelato, an International wine list, and inventive cocktails. Fiori is open year-round, offering seasonal dining choices to residents and visitors alike, always with a focus on bringing the tastes and traditions of Italy to each table.
Fiori: 47 Railroad St. Great Barrington MA 413.528.0351