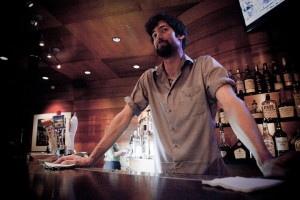 Contact: Jaclyn Stevenson / 413.637.9887 x 126 / Jaclyn@winstanley.com
GREAT BARRINGTON, Mass.—Lumin Brulee… intriguing, right? Well you don't even know the half of it. This is a unique and fantastic cocktail created by Jesse Watkins, bar manager and bar chef at Fiori Restaurant in Great Barrington, Mass. Many locals and visitors have enjoyed it, and rave about its refreshing, fruity taste and spring/summer-like qualities. And now, it's among some of the best cocktail recipes in the US.
Jesse, a bartender extraordinare, has entered his Lumin Brulee in Mionetto Prosecco's 2012 Mixology Masters Challenge. Mionetto Prosecco, a world famous winery, holds the recipe contest annually for bartenders (in professional or amateur categories). Entrants must provide the ingredients and procedure in making the drink as well as the basis of its inspiration. Inspiration for Lumin Brulee came from another cocktail unique to Fiori—the Lumin, which is made with house-infused berry vodka and hand-squeezed lemonade. In this spin-off of that popular drink, Jesse's new creation is made the same way, but then "bruleed" to offer an out-of-this-world, refreshing flavor. According to Jesse, "everything tastes better when it's 'bruleed.'"
The contest consists of two rounds— round one involves the public voting for their favorite of the entered cocktails, with the top 10 vote-getters moving on to the next round. In round two, the field is narrowed to three finalists who are then judged by a three-person panel based on taste, creativity, presentation, and inspiration. Contest judges are Enore Ceola (Managing Director of Mionetto USA), Andrew Knowlton (Restaurant and Drinks Editor for Bon Appetit magazine), and Francesco Lafranconi (National Ambassador of the U.S. Bartenders Guild).
The winner of this nationwide contest receives a private VIP tour of the Mionetto Winery in Valdobbiadenne, Italy. The three professional finalists as well as the first place winner in the amateur category will head off to Las Vegas where they will showcase their recipes at Vegas Uncork'd by Bon Appetit magazine. There are lots of other prizes, too!
So go on over to Fiori Restaurant to try Jesse's Lumin Brulee—it's already becoming a favorite!
-30-
About Fiori Restaurant
Fiori restaurant was founded in 2011 by brothers Alexander and Matthew Feldman, and specializes in handcrafted and authentic Northern Italian cuisine, featuring house-made selections of bread, cheeses, pasta, and gelato, an International wine list, and inventive cocktails. Fiori is open year-round, offering seasonal dining choices to residents and visitors alike, always with a focus on bringing the tastes and traditions of Italy to each table.