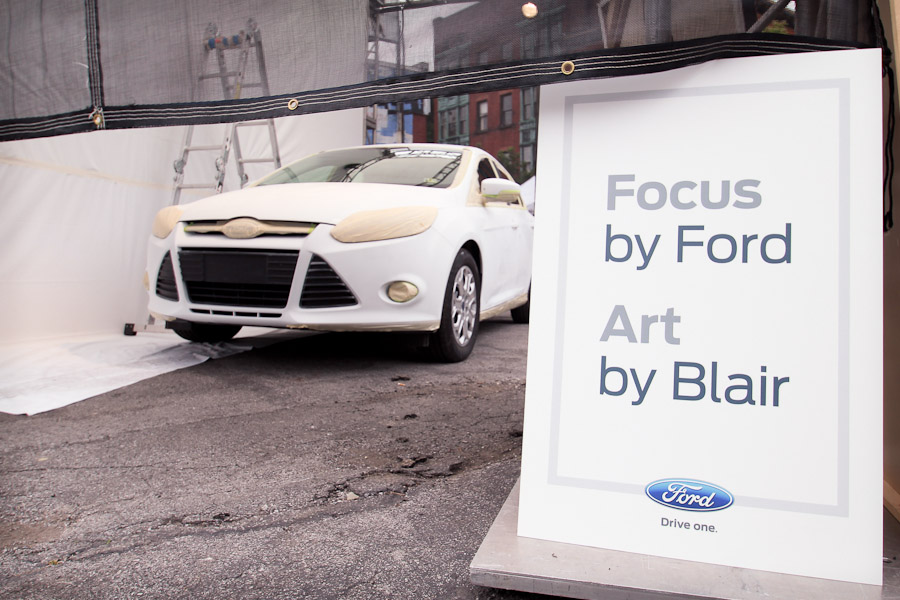 BUFFALO, NY - On June 11 and 12, local artist Blair Rusin used a new vehicle as his blank canvas, transforming it into a hand-painted, mobile masterpiece during the Allen West Art Festival. Parked on the corner of Allen and College streets, the exhibit featured a 2012 Ford Focus completely coated in white primer, including the windows, that later became a colorful work of art. The Western New York Ford Dealers supplied the vehicle in the hopes that this first-time festival exhibit would excite car fans and festival-goers alike.
"When have you ever seen anyone hand-paint an entire car?" said Chuck Basil, chairman of the WNY Ford Dealers. "This dramatic visual is sure to draw people in and get them asking about the newly designed Focus. It's a beautiful vehicle and it gets 40 miles per gallon."
The performance, engineering and technology coupled with its gas efficiency, make the Ford Focus exceed virtually any vehicle in its class. To illustrate this, the WNY Ford Dealers contacted a local artist to celebrate the car's personality and infuse it with some of Buffalo's colorful art culture.
The newly-painted 2012 Ford Focus will become the grand prize in a giveaway to be announced later this summer. The WNY Ford Dealers recently awarded a new Ford Fiesta to Rita Layer of Lockport through Kiss 98.5's Fiesta de Mayo contest, and a Ford F-150 with EcoBoostT to John Domres, Jr. of Buffalo at WYRK's Taste of Country.
"All I can tell you is to stay tuned to find out when and where the Ford Dealers will give away this one-of-kind, Blair Rusin original, 2012 Ford Focus," said Basil.
UPDATE:
The WNY Ford Dealers have teamed up with WUTV-Fox to giveaway the painted 2012 Ford Focus through a texting promotion titled "Art on Wheels." To enter, contestants should tune in to The Big Bang Theory which will air weekdays at 6pm on WUTV Fox 29 beginning in September.


Contestants will then text "FOCUS" to 21570 and enter "The Big Bang Theory Word of the Day" for that day. Standard text messaging rates apply to all text message entries sent.



Contest starts on Monday, September 19, 2011. All entries must be received by the station by 11:59 on Monday, September 26, 2011.



One winner will be selected by random drawing from among valid and correct entries on Tuesday, September 27, 2011.



The winner will be announced live on Fox 29 before the Big Bang Theory on Friday, September 30.


About WNY Ford Dealers
The Western New York Ford Dealers are part of the Western New York Ford Stores, an advertising cooperative comprised of 31 dealer locations that provides support for Ford vehicle sales and service in the 13 counties of Western New York and Rochester, and two counties in Northern Pennsylvania.
About Blair Rusin
Blair Rusin became a commissioned portrait artist at the age of sixteen (Greater Buffalo Sports Hall of Fame). To further his studies after high school, he studied at la Scuela de Medici, in Florence, Italy. There he focused his energies on expanding the depth of his artwork. Blair has learned from many different sources of creative influence. He has spent time as a graphic designer, muralist and as an architectural renderer.
###