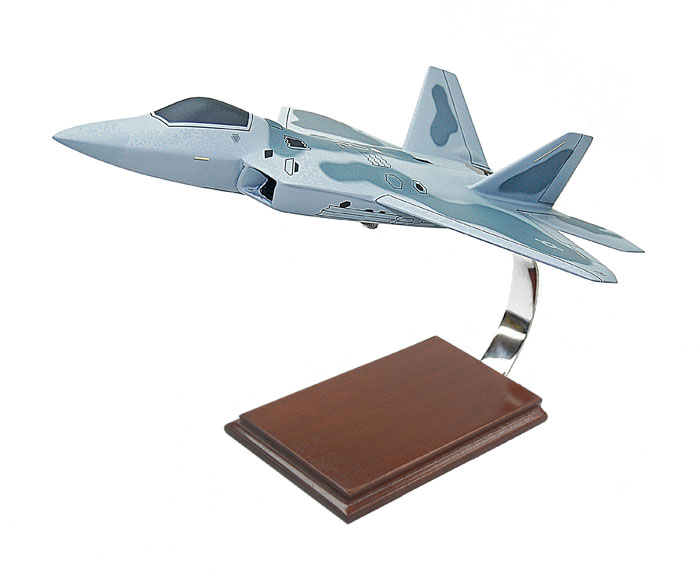 Still in active service, the
F-22 Raptor
is a single-seat fighter jet created by Lockheed Martin and Boeing. The U.S. Air Force needed an Advanced Tactical Fighter in 1981 to have a new air superiority fighter that would replace the
F-15 Eagle
and
F-16 Fighting Falcon
jet planes.
In July 1986, a request for proposals was issued and two contractor teams, Lockheed/Boeing/General Dynamics and Northrop/McDonnell Douglas were chosen to undertake a 50-month demonstration phase, culminating in the test flight of two prototypes, the YF-22 and the YF-23.
In April 1991, Donald Rice, Secretary of the Air Force at that time, announced the selection of the YF-22 as the winner of the ATF competition. The chosen prototype was more agile even if the other prototype was faster and more stealthy.
The F-22 aircraft combines stealth design with the supersonic, highly maneuverable, dual-engine, long-range requirements of an air-to-air fighter and has an inherent air-to-ground capability. The F-22's integrated avionics gives it its first-look, first-shot, first-kill capability that is said to guarantee U.S. air dominance for the next 40 years (F22-raptor.com). The Af.mil website claims that "the F-22 cannot be matched by any known or projected fighter aircraft."
Raptors
are assigned to two squadrons of Air Combat Command's 1st Fighter Wing at Langley Air Force Base in Virginia. Two squadrons are also assigned to the 3rd Wing at Elmendorf Air Force Base in Alaska. Raptor pilots and maintainers train at Tyndall Air Force Base in Florida while operational testing is conducted at Edwards Air Force Base in California and at Nellis Air Force Base in Nevada. Also, F-22 Raptors are being assigned to the 199th Fighter Squadron the 154th Wing, Hawaii Air National Guard and the 19th Fighter Squadron, 15th Wing. Hickam Air Force Base in Hawaii (Lockheedmartin.com).
A well-admired fighter aircraft, the
F-22 Raptor
is just as fascinating as a scale replica. Warplanes, the most sought after wood plane model maker, creates magnificent
F-22 scale model aircraft
which would catch the interest of any person. For years, we have been creating handcrafted wooden models that could proudly stand next to the real aircraft, spacecraft, or watercraft.
About Warplanes.com
Warplanes.com
is your home for high-quality scale wood model airplanes, desktop military model planes and civilian aircraft, model ships, aircraft carriers, and military wall plaques. We specialize in
custom airplane models
.
http://www.warplanes.com
1 (800) 579-1207 or (480) 991-1841