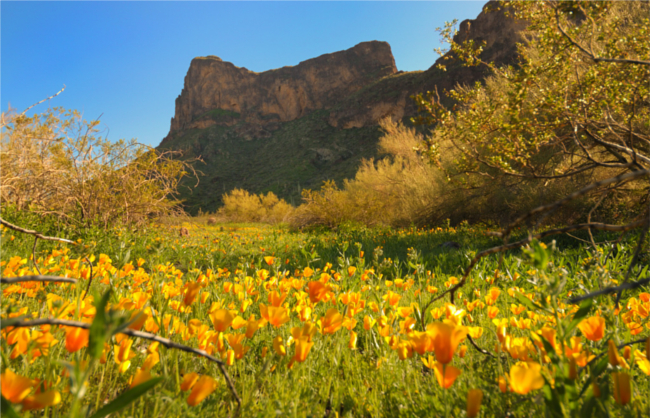 Arizona is absolutely perfect during springtime. While most of the country is still shoveling snow, Arizona is already full of life and color. The weather is not too hot or too cold and there are a lot of fun activities to do during your Arizona vacation. From golf to horseback riding, the whole family will have a blast as they spend the spring break in glorious Arizona.

Here are some activities that are perfect during springtime:

Visit a western town – Go back in time and relive the exciting adventures of cowboys and Indians. The Rawhide Western Town is the largest western-themed attraction in Arizona. It is located in a real Indian Reservation where they feature gun fights, stage coach rides, sundown cookouts, and country music performances. There is also a steakhouse where you can enjoy your fill of western food.

Giddy-up and enjoy the ride – Kids will enjoy horseback riding through the picturesque deserts of Arizona. During springtime, the weather is still cool enough that you do not have to worry about heat strokes. You can even wear a cowboy hat and boots to complete your cowboy/girl look.

Catch the spring training games – Each year, major baseball teams travel to Arizona for off-season training. Watch your favorite teams and get a chance to interact with them. This is the best way to check up on your favorite team before the season starts in summer.

Visit the lakes – Hot dry deserts are the first images that come to mind when people think of Arizona. But Arizona is also home to a lot of beautiful and enchanting lakes. Have a wonderful family picnic or enjoy a fishing trip at the Pena Blanca Lake or Patagonia Lake Park. The Lake Havasu is another famous lake in Arizona, it is the home of the reconstructed London bridge. Book vacation home rentals in Arizona that are near several tourist attractions to visit these lakes.

Bask in Arizona's colorful culture – Arizona is very rich in history and culture. Take part in the springtime festivals or visit diverse museums, art galleries, planetariums, zoo, and historical places in Arizona. Sample the fascinating culinary treats and fill your stomach with mouthwatering Arizona food.

Cruise in the desert – A desert is more than a vast sandy place. It's a living breathing ecosystem that is home to interesting plants and wildlife. Explore the Arizona desert with a 4x4 jeep or discover secluded bike trails.

Enjoy a golf vacation – Arizona is packed with championship golf courses that can challenge and excite golfers of all levels. Golf is very popular in Arizona and spring is the best time to play it all day. Stay in vacation home rentals located inside a golf resort to experience a luxurious spring vacation at an affordable price.

Take advantage of the lovely spring atmosphere and come down to Arizona for a vacation. Golf is a primary activity in this state, but there are plenty more options that the whole family would love to do. Check out the vacation packages from Canoa Ranch Resort in Tucson Arizona to get the best vacation deals.