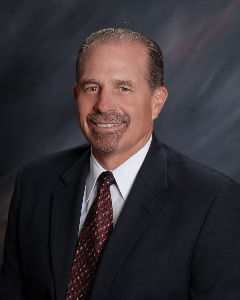 ANNAPOLIS, Md. (April 24, 2012) -- The Annapolis Area Christian School (AACS) Board of Directors is pleased to announce the selection of Mr. Rick Kempton to lead Annapolis Area Christian School as our next Superintendent, beginning in July 2012. Kempton comes to AACS as a leader in Christian education with a commitment to program excellence, a passion for developing students to be "difference-makers", and a breadth of experience in school management and administration.
Kempton brings a career filled with experience and significant accomplishments to his new role as Superintendent of AACS. Most recently he has served as the Superintendent of Friends (Evangelical) Christian School (FCS) in Yorba Linda, California. His tenure there began when he was hired as the founding Middle School Principal. He was instrumental in providing leadership and generating the funds for a new High School project, which when completed will house an enrollment of 1200 9th-12th-grade students. In addition to his experience as the organizational leader at FCS, he has chaired accreditation teams throughout the Western USA and in a number of K-12 schools in Asia. He has also served on the board of the Association of Christian Schools International for nearly 20 years where he was chairman from 1999-2001. Along with his experience in Christian education, he has also served in the public school sector as a secondary English teacher, coach and administrator.
"We are excited that Rick will be joining the team as we complete our strategic plan, and we believe he will be instrumental in helping us implement the plan in the years to come. We are grateful for the work of the AACS leadership transition team specifically Lower School Principal Nancy Pavlischek, Middle School Principal Rick Slenk, Upper School Principal Jane Brown, and AACS Business Manager Glen Cole," said Michael Edmonds, President of the AACS Board of Directors. "Their leadership ensured the smooth operation of AACS over the last several months while the Board focused on the important search for the next Superintendent," he added. "Rick will assume his position as AACS Superintendent at a time when our student enrollment for next year is on track to exceed our goal and our academic programs and offerings continue to be propelled by an experienced and caring staff dedicated to our students. Parents of AACS students have shown their belief in the future direction of the school by re-enrolling their students in greater numbers than in the past several years," Edmonds said.
AACS is an independent Christian day school whose mission it is to engage students in an education of excellence enabling them to impact the world through a growing relationship with Jesus Christ. With a faculty of approximately 75, AACS offers a rigorous college preparatory academic curriculum, a competitive athletic program for boys and girls in middle and upper school, as well as outstanding fine arts in theater, choral and visual arts. AACS enrolls approximately 850 students in grades pre-K through 12 and has graduated more than 1637 students since opening its doors in 1971.
"In partnership with SIMA International, a nationally recognized search firm which has helped non-profits for well over 50 years, and after considering the feedback of the AACS senior management team, members of our school community, and the Board, the AACS superintendent search committee enthusiastically recommended Rick Kempton to the Board as the choice to lead AACS going forward," said Chris Jensen, AACS board member and head of the superintendent search committee. Jensen added, "We are confident that Rick's deep knowledge and experience in Christian schooling and his abundant energy, relational leadership, and love for Christ will invigorate our community, strengthen our commitment to the school's mission, and build a strong culture to enable our school to thrive even in challenging economic times. The committee is pleased that the Board has unanimously approved our recommendation, and has expressed their excitement in partnering with Rick to lead AACS into the future."
Rick Kempton is a long-time resident of Placentia, California. He and his wife Barbara have two married daughters and one granddaughter. Rick has a Master of Science degree in School Management and Administration from Pepperdine University and a Bachelor of Arts in English from California State University Fullerton.
"My wife Barbara and I are excited and feel blessed to join the educational and school community team at Annapolis Area Christian School in a mission and commitment to both spiritual and educational excellence," said Rick Kempton. "It is a priority that the spiritual and educational experience for AACS students is second to none and that our students will be prepared in every way to live lives for Jesus Christ no matter where they go or who they become. I pledge to devote every ounce of my training and passion for Christ, to ensure a culture for students so that the families who are investing in the future of AACS will see their children developed, nurtured and equipped to positively impact their world for Jesus Christ. AACS graduates will be difference-makers for Christ in the communities they serve," he added.
###
About AACS
Founded in 1971, the Annapolis Area Christian School in an independent Christian day school with approximately 850 students attending Pre-K through 12th grade classes at 710 Ridgely Road, Annapolis (Lower School), 716 Bestgate Road, Annapolis (Middle School) and 109 Burns Crossing Road, Severn (Upper School).
AACS offers a college preparatory academic curriculum as well as a competitive athletic program in the middle and upper schools and outstanding fine arts programs. AACS aims to graduate servant leaders who will faithfully represent Jesus Christ in the world. More than 99% ofAACS graduates attend undergraduate programs from many of the country's most prestigious colleges and universities.
For additional information, please visit aacsonline.org.