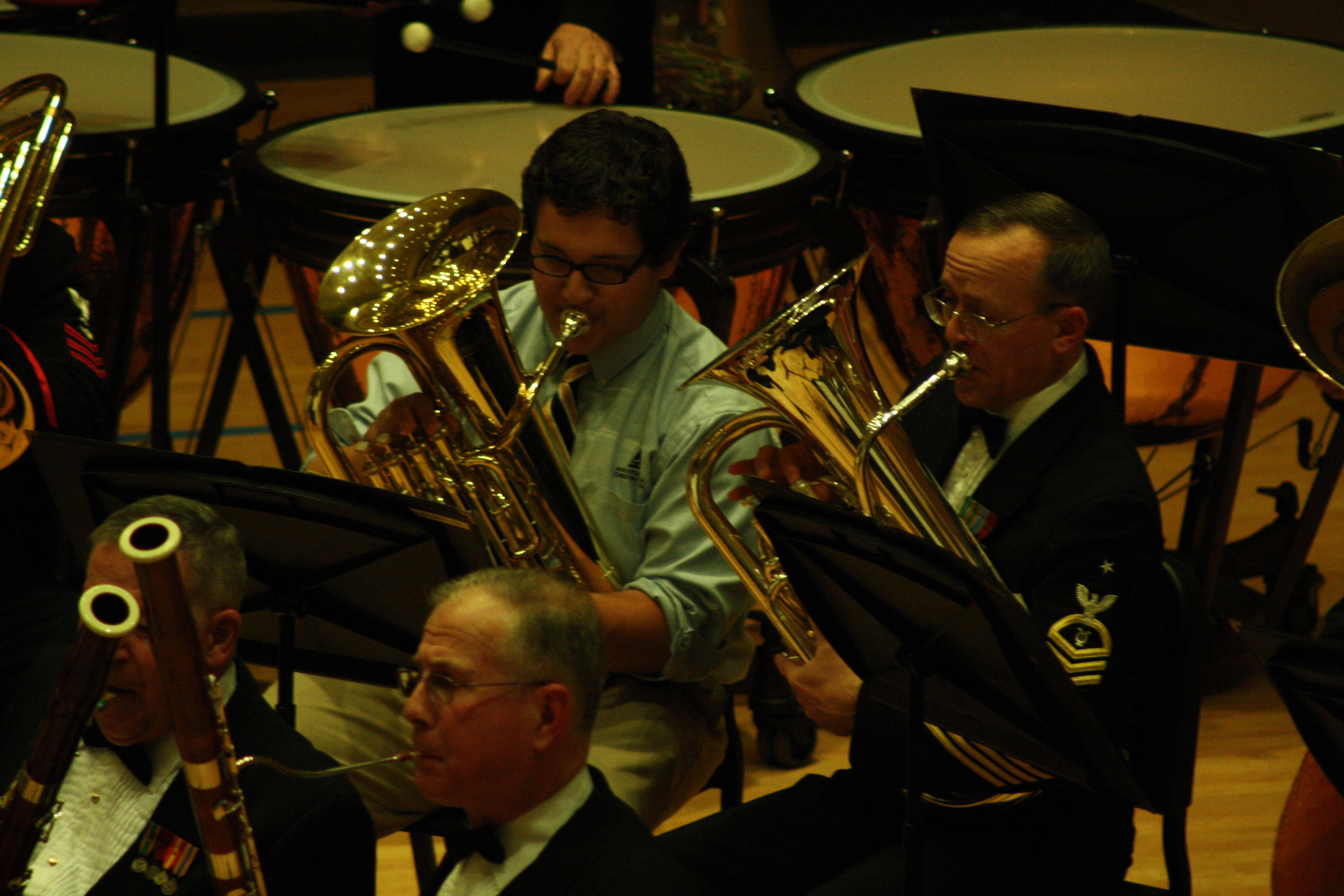 The United States Naval Academy Band recently presented a concert for the Annapolis Area Christian School and local community. The performance took place at the Kerr Center for the Arts at the AACS Upper School, which is located at 109 Burns Crossing Road in Severn, Md.
Musical selections of the evening included the works of Verdi, Bullman, Schuman, Dukas, and Sousa. Musician First Class Zachery Hollister was the featured soloist performing Rhapsody for Bass Trombone by Stephen Bulla. A special encore, which was not listed on the program, featured several members of the AACS Upper School Instrumental Ensembles as students were invited to participate on stage with the Naval Academy musicians. Ye Chen (Class of 2014), Zach Reynolds (Class of 2013), Tim Wenger (Class of 2013), Ryan Park (Class of 2013) and Adam Cogliano (Class of 2012) were invited on stage at the culmination of the program to perform Stars and Stripes Forever by John Philip Sousa.
The collaboration between the Naval Academy Band and AACS further recognizes the extensive opportunities available to students and staff, both educationally and artistically. "Overall, the night was great; the educational opportunity for our kids was amazing. "The fact that the Naval Academy Band brought their fans and followers to the AACS community was a good combination. For a first time concert, we are grateful for the opportunity to partner with them," said Mike Shaner, AACS Band Director. "The Fine Arts department now has another resource for reaching out into the community and we look forward to furthering our relationship with the U.S. Naval Academy Band. Students felt enriched by the event especially after sharing the stage with a nationally recognized band," he added. AACS trumpet player, Tim Wenger, said it as "a great learning experience!"
AACS Instrumental and Band ensembles include the Intermediate Band, the Symphonic Band, and the Percussion Ensemble. Jazz Band and Marching Band are also offered at AACS as an after-school activity for those interested. All afterschool opportunities include students from grades 7-12.