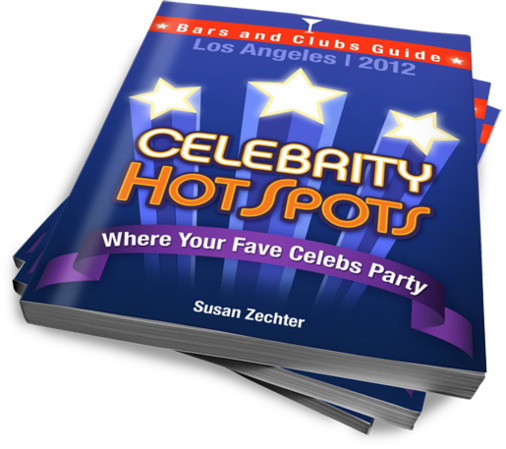 2012 Celebrity HotSpots Los Angeles Bars and Clubs Guide: Where Your Fave Celebs Party

2012 Celebrity HotSpots Los Angeles Bars and Clubs Guide: Where Your Fave Celebs Party
DISCOVER AND HANG OUT AT THE SAME PLACES AS YOUR FAVORITE CELEBS, AND IF YOU ARE LUCKY, YOU MIGHT EVEN SPOT THEM THERE!
Celebrities are part of the fabric of Los Angeles and can regularly be seen living it up in the nightlife scene. Where do they go for a crazy or mellow night out on the town, to dance to the latest DJ tunes, and to celebrate and let loose?
2012 CELEBRITY HOTSPOTS LOS ANGELES BARS AND CLUBS GUIDE: WHERE YOUR FAVE CELEBS PARTY provides an inside track to over 60 Los Angeles-area bars and clubs ranked by most celebrity spottings.
Each bar and club listing details the most-spotted celebs, an extensive list of popular celebs spotted, celebrity events held, location/neighborhood, and a "fan fave" spotting complete with photos of your fave celebs!
Featured in this exclusive guide are an eclectic mix of over 1700 celebrities including actors, actresses, athletes, fashionistas, models, musicians, reality TV stars, screenwriters, TV personalities and many more famous (and infamous!) people.
Available for purchase on Amazon and additional online channels:
Where To Buy/Purchase Now!
5-STAR REVIEWS:
"Have you been out of the club scene? Then you need this guide!" – Luis J.
"I use this guide religiously when friends visit and also when I take clients out on the town for the night. Definitely a must have for those coming to L.A. or those entertaining those L.A. visitors!" – Allen
"If you're hoping to rub elbows with the rich and famous, planning a fun night out on the town or are just curious about where "the other half" is hangin' out, the 2012 Celebrity Hotspots Los Angeles Bars and Clubs Guide is a must read." – Ray K
"Beyond the surface of the fun sightings though is also the most comprehensive and up-to-date listing of the ever changing and often "word of mouth and in the know only" L.A. bars and clubs scene." – Diana M.