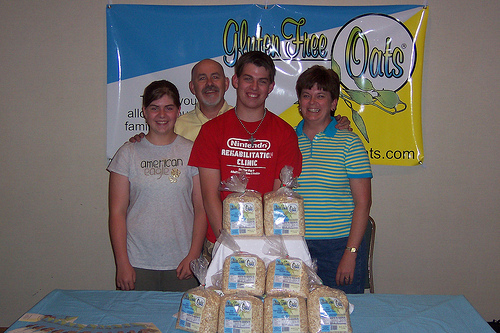 GF Harvest a family-owned business-The Smith family.

GF Harvest a family-owned business-The Smith family.
Gluten Free Oats, LLC located in Powell, Wyoming began as an FFA entrepreneur project by Forrest Smith. Forrest was diagnosed with celiac disease when he was two; three generations of the Smith family have celiac disease. He became determined as a teenager to develop a safe source of uncontaminated oats. His research found a source of uncontaminated oats that was at least 99% oats. He received a loan from the FFA Parents Support Group to purchase a countertop oat roller and started marketing his oats to the Northwest Wyoming Celiac Group. He sold about 100 lbs of oats to 15 customers that first year. This entrepreneur project soon became a family business: Gluten Free Oats, LLC.

Today, eight years later, a new mill and storage facility is nearing completion. When it becomes operational in 2012, the company will be able to grow and process the oats in the Big Horn Basin. The Smith Family is rebranding the business name to GF Harvest, LLC.

The business supplies locally grown, gluten free oat products to celiac sufferers and others across the United States and around the world. They package the product in various size bags of rolled oats, oat flour, groats, and also make and package granola. The products carry Gluten free (GF), Organic, and Kosher certifications. They are constantly looking for other ways to diversify their product line.

The company web site has numerous recipes, identifies their processes, and contains links where their products are sold in each state. GF Harvest exports products to Australia and the United Kingdom. Congratulations to GF Harvest, LLC a Gluten Free Oats company, the 2012 SBA Wyoming Small Business Exporter of the Year!