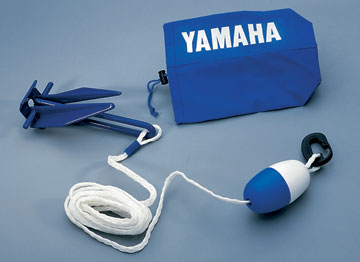 KENNESAW, GA - The holiday season is in full swing and Yamaha Genuine Parts and Accessories has the perfect gift for your favorite WaveRunnerr owner. Bypass the mall and go directly to your local Yamaha dealers to find great gift ideas and stocking stuffers that the entire family can use and enjoy.

Yamaha holiday gift ideas:

WaveRunner Anchor: This anchor attaches easily and is designed to be hand set; included 15' heavy duty rope and stores in its own handy bag.

WaveRunner Sand Stake Kit: An easy and safe way to anchor your personal watercraft this sand stake kit is the perfect choice.

Yamaha WaveRunner Cover: Protect your personal watercraft by purchasing a cover to fit snugly to your specific model.

Marine Detailing Bucket: Yamalube products in this new reusable detailing bucket to make easily clean your personal watercraft! Detail bucket contains: one each of 32-oz. Yamaclean All Purpose Cleaner, 32-oz. Yamaclean Vinyl Dressing, 32-oz. Yamaclean Glass cleaner, 16-oz. Yamaclean Wash&Wax, 32-oz. Yamaclean Hull Cleaner, 32-oz. Yamaclean Deodorizer, microfiber towel and wash sponge.

Yamaha Shorty Wetsuit: 2mm neoprene wetsuit for comfort and flat-lock stitching provides a smooth fit. A must have when riding watercraft.

Billet Aluminum Fuel Cap: For a distinctive and sporty look available now in silver and black.

Yamaha Side Entry Nylon PFD: Front, side and back foam for a sleek look. Available in red, black and blue.

WaveRunner Handlebar Pack: For extra storage this heavy-duty waterproof pack is ideal for sunglasses, lanyards and more.

WaveRunner Floating Wrist Lanyards: Available in several colors - these floating wrist lanyards are a must have and make a great stocking stuffer.

Yamaha WaveRunner Kit: A quick way to get started with the supplies you need for your new WaveRunner. Kit contains Two U.S. Coast Guard approved PFDs (adjustable small-large) with a nylon case to store them in. Kit also includes clip-on whistle, first aid kit, 2 12' dock lines and 2 WaveRunner fenders.