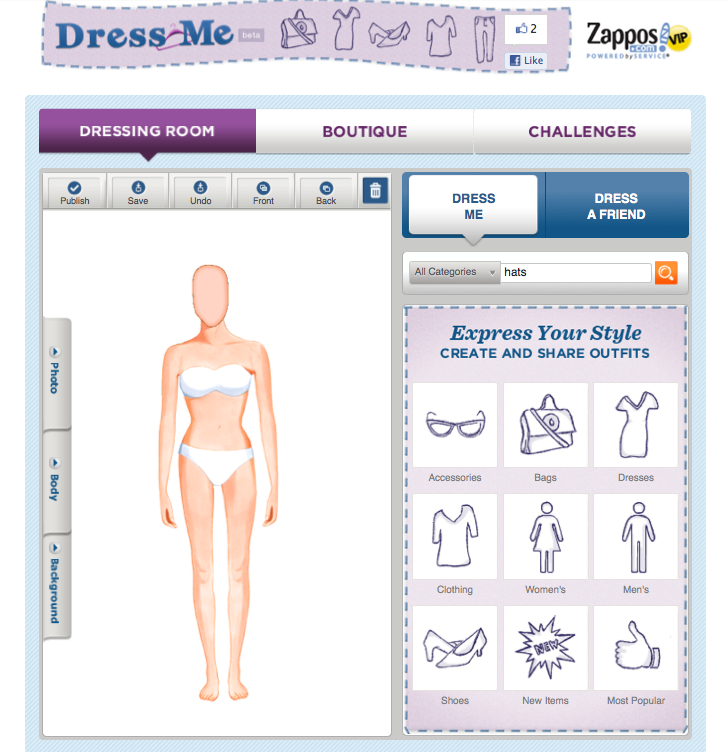 Henderson, NV: Women just love a day of shopping with their girlfriends, don't they? Going from store to store, trying on clothes, modeling outfits and sharing opinions on what looks good, and what doesn't. Unfortunately, the reality is, women are just far too busy these days to find time and carve out a day of shopping with friends. Don't get your lace-tights all tied up in knots, fashionistas! Zappos.com, a leading destination in online clothing and shoes, has created a fun, innovative, and playful way to "try on" the latest trends and dress their friends online with its Dress Me Facebook app.

"Zappos knows its fashion-savvy customers love to wear the latest trends, share their sense of style with their friends and have fun shopping. The Dress Me Facebook app gives customers the opportunity to "try on" real world clothing to create outfits that are unique to them or their friends," said Lianna Shen, Manager of VIP Operations. "At Zappos, we are all about creating exciting and engaging shopping experiences, and we feel the Dress Me Facebook app will give customers the opportunity to become personal stylists for themselves and their friends."

Known as "social dressing", the Dress Me Facebook app allows users to create a
personalized model and dress it from head to toe in virtually hand-picked merchandise from the Zappos VIP catalog, and share their trendy outfits with Facebook friends to critique. Also, by clicking through from the Dress Me application to the Zappos VIP website, users will get a free upgrade to VIP status, which grants such benefits as free next day shipping and expedited returns. Users can dress their friends as well and post recommended outfits on individual friends' Facebook walls – whether they asked for opinions on their wardrobe or not. Sometimes the truth hurts. But, as mom used to say, pain is beauty, right?

The Zappos Dress Me Facebook app also includes a free, interactive game that encourages friends to challenge each other and assemble the best outfits for upcoming
events, such as, best wedding outfit, best prom outfit, best blind date outfit – the scenarios and the style options are endless. Whatever the occasion, the Zappos Dress Me app offers a catalog full of the latest fashion trends to dress to impress.

Users of the Dress Me app will be able to view the entire Zappos VIP catalog, and also purchase any merchandise used in the outfit design at vip.zappos.com.

Check out this Dress Me Facebook app video on YouTube to see how the app works.


About Zappos.com
Established in 1999, Zappos.com, operated by Zappos Development, has quickly become the leading destination in online apparel and footwear sales by striving to provide shoppers with the best possible service and selection. The Zappos Family generates gross merchandise sales exceeding $1 billion annually. Zappos.com currently showcases millions of products from over 1000 clothing and shoe brands. Zappos.com, Inc. was recognized in 2009, 2010 and 2011 by FORTUNE MAGAZINE as one of the "100 BEST COMPANIES TO WORK FOR". Zappos.com is also proud to be rated ELITE by STELLAService and was named a J.D. Power 2011 Customer Service Champion, one of only 40 companies so named in the U.S. More information about the customer service philosophy, unique culture, and job openings can be found at http://about.zappos.com. More information about Zappos Insights, and its business membership program can be found at http://www.zapposinsights.com.




?