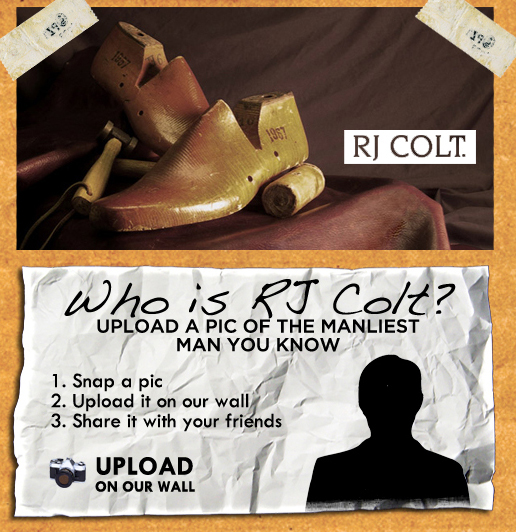 Zappos.com
, a leader in online apparel and shoes, today announced that it has signed an exclusive partnership with men's footwear manufacturer
RJ Colt
to sell its line of approximately 60 - 70 SKUs solely through Zappos.com. As part of the partnership, Zappos will lead a "Manliest Man" themed manhunt to find average Joes who exemplify the ideal RJ Colt man. The "Who is RJ Colt?" marketing campaign will feature advertising and social media components, including a
Facebook contest
where people can upload their manliest photos and have friends and family vote and campaign for their manly man to be chosen as the new face of the brand. Click
here
to view Facebook contest.
"We believe
RJ Colt
is an incredibly relevant brand that embodies classic American style and spirit," said Zappos Style Expert, Brooke Hyden. "Through this partnership, we hope to bring
RJ Colt
back to the forefront of men's footwear by inspiring men everywhere to BE the brand."
The
RJ Colt line
, now available on Zappos.com, includes a range of all-season casual footwear styles for men including boots, loafers, sandals, Oxfords and boat shoes.
"This partnership with Zappos.com affords us the opportunity to draw upon Zappos' extensive customer base to bring our line of innovative, high-quality shoes to a growing group of consumers looking for exceptional workmanship at a great value," said Dave Moore, Senior Vice-President at Jimlar, parent company of RJ Colt.
For more information about RJ Colt, or to purchase RJ Colt shoes on Zappos.com, please click
here
. To check out our RJ Colt stylist picks click
here
.
About Zappos.com
Established in 1999, Zappos.com, operated by Zappos Development, has quickly become the leading destination in online apparel and footwear sales by striving to provide shoppers with the best possible service and selection. The Zappos Family generates gross merchandise sales exceeding $1 billion annually. Zappos.com currently showcases millions of products from over 1000 clothing and shoe brands. Zappos.com, Inc. was recognized in 2009, 2010 and 2011 by FORTUNE MAGAZINE as one of the "100 BEST COMPANIES TO WORK FOR". Zappos.com is also proud to be rated ELITE by STELLAService and was named a J.D. Power 2011 Customer Service Champion, one of only 40 companies so named in the U.S. More information about the customer service philosophy, unique culture, and job openings can be found at http://about.zappos.com. More information about Zappos Insights, and its business membership program can be found at http://www.zapposinsights.com.