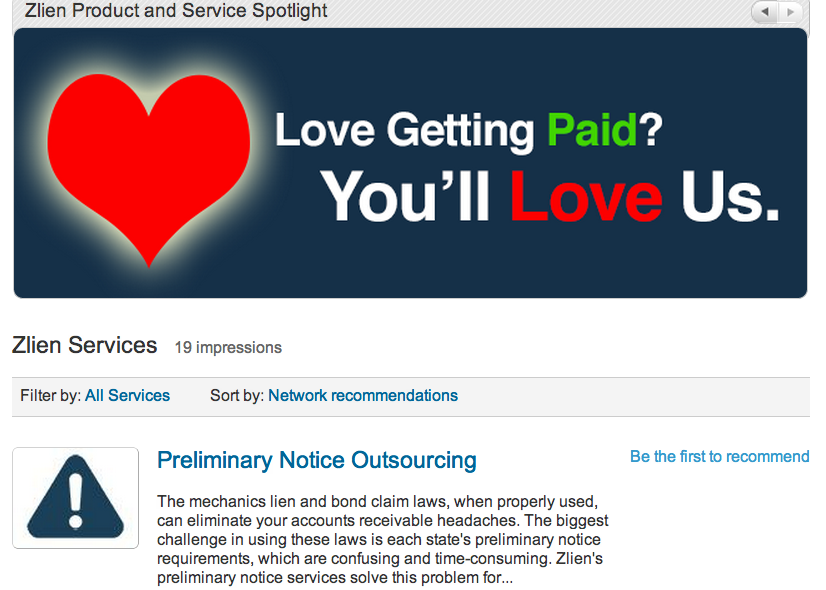 Zlien is excited to announce the launch of its new
LinkedIn profile
.
Zliens new LinkedIn profile has been streamlined to
offer easy access to information on the company, its services and its employees.
"Zlien's new LinkedIn profile is just another step in our continual efforts to be accesible, user-friendly and transparent to our clients," says Jennifer Smiley, COO of Zlien. "It's not just about maintaining a social media presence, its about about providing our users with the best experience. Part of that experience is easy access to the information and knowledge we possess."
Zlien's new linked in profile may be accessed
here
.
About Zlien
Zlien handle mechanics lien compliance for thousands of contractors and suppliers across the United States. A mechanics lien is one of the most powerful tools in obtaining delinquent payment. The mechanics lien is filed when a contractor goes unpaid for work or materials furnished to a construction project. Once the proper paperwork is filed and served by Zlien, the debtor will be obligated by law to pay for the work done by the contractor. Should the debtor not pay the lien in the time given and the lien enforced, the debtor's property will be sold by a court, with the proceeds going towards paying the filed liens. Zlien has the knowledge it takes to file your liens in any part of the country. With the filing of paperwork differing from state to state, Zlien offers its filing services all across the nation.