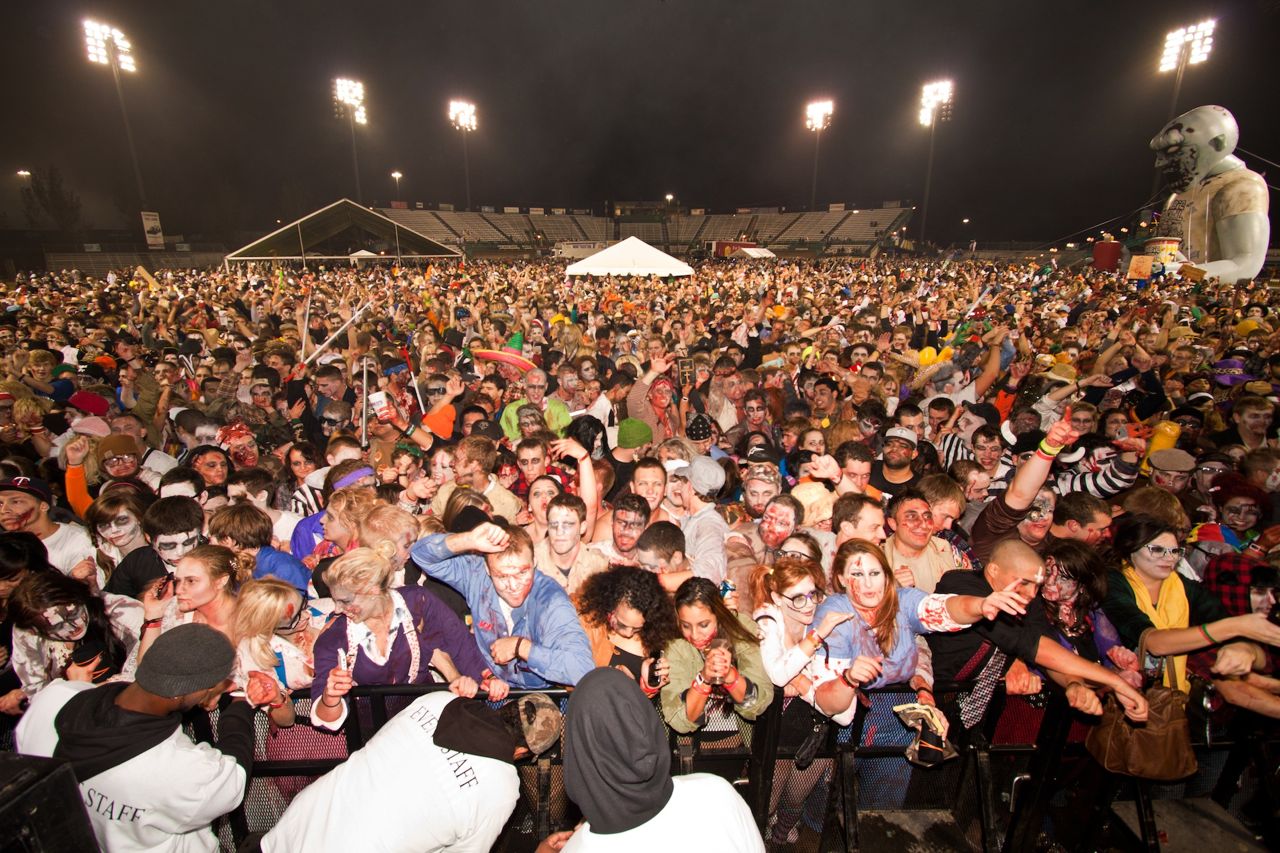 News broke on November 12 at 2:23pm that the 2012 Zombie Pub Crawl set the new Guinness World Record for Largest Gathering of Zombies. Guinness stated in an email, "We are pleased to confirm that you have successfully set the new Guinness World Records title for 'Largest gathering of zombies'. Guinness World Records congratulates you on your achievement."
The 8th Annual Zombie Pub Crawl took place on Saturday, October 13, 2012. Over 30,000 zombies rose from the dead for the event, and a total of 8,027 zombies were present at Midway Stadium AKA Zombie Island for the World Record Attempt at 9:00pm.
The previous record was held by the New Jersey Zombie Walk, which had 4,093 attendees in 2011. The Minneapolis/St. Paul Zombie Pub Crawl had over 27,000 attendees in 2011, but did not have ample evidence to submit to Guinness to earn the official title of "Largest Gathering of Zombies." This year, armed with every kind of evidence you could imagine (including hundreds of zombie blood-stained witness statements), the Zombie Pub Crawl earned its deserved title.
Other notable features of Zombie Pub Crawl 2012, (also known as, "ZPC Ocho") included:
• Carnival Rides
• RFID Wristbands
• Social Media Kiosks
• ZPC Smartphone App
• Brain Belt Cranium Beer
• Beer Garden + Liquor Garden
• "Phil," The World's Largest Inflatable Zombie
• Zombie Swag - Zombie T-shirts + Posters by DWITT
• Food Trucks on Minneapolis Side + Plenty of Food at Zombie Island and Bars
• Entertainment: Performances by Riff Raff, Big Freedia, Gin Blossoms and 30 other local bands + DJs
The Zombie Pub Crawl is an event in Minneapolis/St. Paul during which thousands of people pretend to be dead and wander the streets, drinking and dancing and carousing and having the time of their lives. The Zombie Pub Crawl began with 150 zombies in Minneapolis in 2005 and has almost doubled in size every year. The Zombie Pub Crawl is the longest running event of its kind in the USA. There are many copycat events around the world, but this is the original.
For more information about Zombie Pub Crawl, please visit
www.zombiepubcrawl.com
.
For photography, footage and additional information on the Zombie Pub Crawl, visit
www.zombiepubcrawl.com/2012/media/
.
Additional Information
Like us on
Facebook
:
www.facebook.com/zombiepubcrawl
Follow us on
Twitter
:
@ZombiePubCrawl
Instagram
: #ZPC
statigr.am/tag/zpc/
Pinterest
:
pinterest.com/zombiepubcrawl