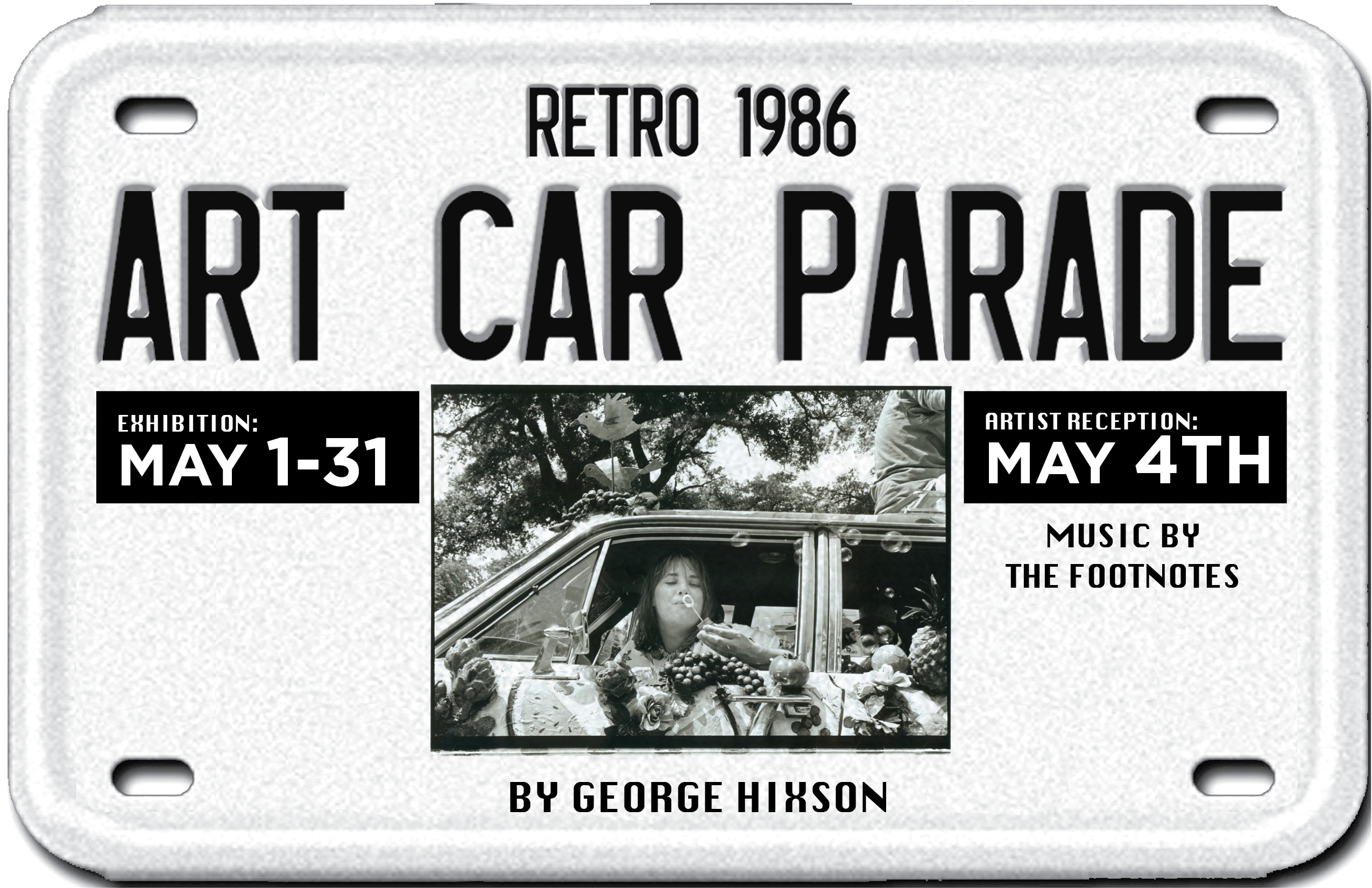 Exhibition: May 1-31, 2012
Artist Reception: May 4, 2012
In celebration of the 25th anniversary of the Houston Art Car Parade, MKT BAR at Phoenicia Specialty Foods Downtown is hosting a photography exhibit of black and white photos by George Hixson taken in 1986 at the "New Music Parade." This wildly creative event was the impetus for the first official Houston Art Car Parade and featured a procession of 20 artist floats, art cars and the Urban Animals' "roller skating gang" down Montrose Boulevard.

Today, the Houston Art Car Parade is the highlight of a three-day celebration of the drive to create Art Car Weekend. The parade attracts 250+ vehicles and other entries from 23 states, along with Canada and Mexico, and draws a crowd of nearly 250,000 spectators.

Visitors can enjoy an up-close look at the art cars, which will be parked in front of Phoenicia during the artist reception. Revelers can dance the night away to music from The Footnotes, who performed at the first Art Car Ball.

WHEN:
Exhibit: May 1 - May 31, 2012
Artist Reception: Friday, May 4, 2012, 5:30PM-8PM

MKT BAR HOURS:
M-W: 7AM-10PM
TH-F: 7AM-2AM
SAT: 9AM-2AM
SUN: 9AM-8PM

WHERE:
MKT BAR at Phoenicia Specialty Foods Downtown
1001 Austin Street
Houston, Texas 77010

Complimentary parking is available in the One Park Place garage on a first-come, first-served basis. Enter garage on McKinney.
WEBSITE:
www.MKTBAR.com
www.YUMSTOP.com
www.TheHoustonArtCarParade.com
COST:
Free admission. Light bites will be served at the artist reception, with drinks available for purchase. Fifty percent of the proceeds from art sales will benefit The Orange Show Center for Visionary Art.
ABOUT THE ORANGE SHOW CENTER FOR VISIONARY ART
Now in its 30th year, The Orange Show Center for Visionary Art is a non-profit, 501(c)(3) organization based in Houston, Texas with a mission to preserve, promote and document visionary art environments, provide opportunities for the expression of personal artistic vision and create a community where that expression is valued. The Orange Show owns and operates The Orange Show monument, The Beer Can House and Smither Park, and produces the Houston Art Car Parade - the world's oldest and largest event of its kind. For more information, visit them online at www.orangeshow.org.
CONTACT:
Tina Zulu, 888.520.1789, ext. 1 or tinazulu@zulucreative.com for MKT BAR and Phoenicia Specialty Foods.