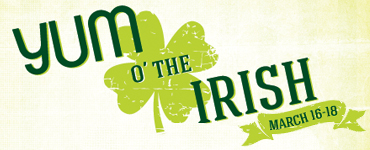 WHAT:
Phoenicia Specialty Foods Downtown and MKT BAR will celebrate Irish heritage with three days of fabulous festivities. Entitled YUM o' the Irish, highlights include a special menu of Irish breakfast, Chocolate Chip Waffles with Strawberry Guinness Syrup, Irish Stew and Chef's Irish Steak Special, Corned Beef & Cabbage Pizza, Guinness Cupcakes and Irish beer: Guinness, Moylan's and organic "green" varieties. Live musical entertainment, a special film screening, fun prizes and more will also commemorate St. Patrick's Day.
In-store, the renowned bakery will offer limited-edition shamrock-shaped pita bread. Saturday-evening diners will get a spin on a lucky prize wheel and can also try to guess the number of coins in a pot of gold for a variety of prizes. Shoppers can enjoy a free scoop of green gelato at MKT BAR when they wear a green YUMMY! t-shirt (available for purchase at Phoenicia).
A special screening of the film Once, a modern-day love story set in Dublin, will take place at 2PM on Saturday and 4PM on Sunday. The performing arts stage will feature live musical performances and an Irish playlist throughout the weekend.
The Phoenicia YUMMY! Crew will participate in the Houston St. Patrick's Day Parade on March 17, handing out free YUMMY! t-shirts.
WHEN:
Friday - Sunday, March 16-18, 2012
Phoenicia Specialty Foods Downtown Store Hours:
Friday: 8AM – 9PM
Saturday - Sunday: 9AM - 8PM
MKT BAR Irish Menu:
Friday: Breakfast: 7AM, Lunch/Dinner: Noon - Midnight
Saturday: Breakfast: 8AM, Lunch/Dinner: Noon - Midnight
Sunday: Breakfast: 9AM, Lunch/Dinner: Noon - 8PM
WHERE:
Phoenicia Specialty Foods Downtown and MKT BAR
1001 Austin Street
Houston, Texas 77010
WEBSITE:
www.YUMSTOP.com
www.MKTBAR.com
COST:
Free admission. Food and drinks will be available for purchase.
CONTACT:
Tina Zulu, 888.520.1789, ext. 1 or tinazulu@zulucreative.com for Phoenicia Specialty Foods and MKT BAR.
SOURCE:
Phoenicia Specialty Foods and MKT BAR