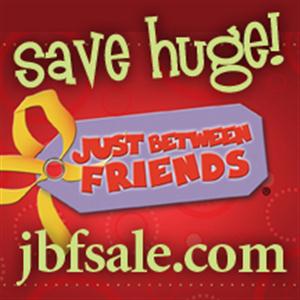 Six Tips & Five Gift Ideas to Find the Best Resale Deals for the Holidays. Plus How to Put Safety First When Shopping Resale
Six Tips & Five Gift Ideas to Find the Best Resale Deals for the Holidays.
Plus How to Put Safety First When Shopping Resale

WHO: Just Between Friends (JBF) is North America's Leading Children's and Maternity Consignment Event, with more than 150 kids consignment events in the US and Canada. The team behind JBF are leading experts in the resale industry. Their holiday shopping survey found 90% of families plan to shop resale for holiday items. You can use these tips in an article or blog but please credit Just Between Friends Franchise System, Inc., www.jbfsale.com
Research pricing online so you know whether or not you are getting a good deal.

When shopping a consignment event or store, make a list and if possible take a friend.

One of the best deals you can find shopping resale is holiday clothing because it is usually worn once or twice.

Look for toys with a theme and package them together in a nice bag – kids will never know.

Find out when the resale shop is having a sale and save even more.

Shop online – but if using a service where you meet the seller, follow safety guidelines.

Here are some of the top gifts JBF recommends buying resale - and no one needs to know it isn't new.
1. Dolls, Doll Clothes and Accessories: Clean them up and package them with clothing and accessories and create a "Barbie Gift Bag" or an "American Girl Gift Pack".
2. Electronics: There are homes across the country with unused Wii systems, Play Stations, games and accessories. Make sure they all work and package it all in a nice box or gift bag.
3. Costume Jewelry: If it is in good condition and in style find a nice jewelry box or pouch and you're good to go.
4. Books: New or used, books make great gifts. An avid reader may love a used book with its own story behind it.
5. Instruments: This is one of the top "re-gifted" items and one that you can find "like new" In fact, there are likely guitars and drum sets sitting in attics across the U.S.
Just Between Friends also places a priority on safety. Kami Snowbarger is JBF's product & recall specialist and trains with the Consumer Product Safety Commission. She is also the "Resale Market Safety Expert" with the International Consumer Product Health and Safety Organization. Snowbarger offers these safety tips when shopping resale.
Make sure items you are purchasing have all of the parts and are in good, working condition.

If you are unsure about an item, you can easily check it out with the recall app found at www.wemakeitsafer.com.

Shop sales that put safety first. At Just Between Friends we check for recalled items and provide up-to-date recall lists for shoppers to view at all JBF sales events.

Media Contact: Diane White, 918-770-3905, DianeWhite@Jbfsale.com
Please feel free to use these tips in an article or a blog, but please credit Shannon Wilburn, CEO and Co-founder of Just Between Friends Franchise or Kami Snowbarger, Product & Recall Specialist, for the safety tips. For more information or to set up an interview, please contact Diane White at 918-770-3905 or by email, DianeWhite@Jbfsale.com.