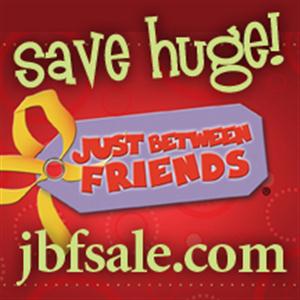 Local Mom Helping Families Save Money for Halloween and Holidays. Just Between Friends Kids Consignment Hosting Big Kids Consignment Event October 13 – 15 in Lower Bucks.
Philadelphia, PA – Fall is just around the corner which means Halloween and the holiday season are not far behind. This can be an expensive season for many families. The National Retail Federation says the average family will spend more than $83 per person on Halloween and nearly $1000 per family for holiday shopping. Families throughout Philadelphia can save money by shopping resale at the region's biggest kids' consignment events. Just Between Friends (JBF) Kids' Consignment is hosting a big event October 13 - 15 in Lower Bucks. JBF events help families save money and make money.
Make Money: JBF offers a safe & convenient way for families to turn clutter into cash. Local families sign up online as consignors, price and tag their own items with an easy bar code system and then bring them to the venue. JBF does the rest of the work managing the events. Consignors earn between 60 and 70 percent of their sales and receive a check within two weeks. The average consignor check is about $400.
Save Money: JBF offers a great way to save money on the fall and winter holidays with great deals on Halloween costumes, holiday clothing and gifts for kids. Shoppers can typically save 50 – 90% on everything they need for their families: clothing, shoes, toys, games, books, kids gear, baby equipment, furniture and much more.
Safety: The Consumer Product Safety Commission says at least two children's items are recalled each week. That's why JBF has a recall expert on their team who works closely with the CPSC as well as safety groups Kids in Danger and We Make It Safer to keep families informed. They inspect items as they come in and pull anything that has been recalled or deemed unsafe for kids.
JBF Lower Bucks
Friday, October 13 – 9 a.m. to 9 p.m.
Saturday, October 14 – 8 a.m. to 5 p.m.
Sunday, October 15 – 8 a.m. to 3 p.m.
Place: Sportsplex – 1331 O'Reilly Drive in Feasterville
Biggest in the Nation
Just Between Friends is North America's leading children's consignment event with more than 150 events in the US and Canada – each run by local families. The events in Philly are some of the largest events in the country. Local mom Tracy Panase organizes two events in Philly, one in Reading and one in Lancaster.
Giving Back
Helping the community is another main focus of Just Between Friends. JBF gives back to the community, providing donations to Cradles to Crayons.
Panase is available for interviews. In addition, we can connect you with families who participate as well as our charity partner. Contact Diane White at DianeWhite@jbfsale.com or by calling 918-770-3905.
About Just Between Friends
In 1997, Just Between Friends was created in a living room in Tulsa, Oklahoma when Shannon Wilburn, a mother of two young children, and her friend Daven Tackett hosted a sale with 17 friends as consignors and had gross sales of $2000. In 2016, that same sale hosted two events and grossed almost 1 million dollars. The sales caught on with families and grew, so in 2003, they formed Just Between Friends Franchise Systems, Inc. Wilburn is now sole owner and CEO of Just Between Friends Franchise Systems, Inc., which has more than 150 franchise in the United States and Canada.
System wide sales in 2016 topped 29 million and they expect to top 31 million in 2017. For the last three years, Forbes Magazine named Just Between Friends one of the top ten franchises in the United States in the under $150,000 investment category. JBF was also named one of Entrepreneur Magazine's Top 500 Franchises for the last 5 years. Just Between Friends Franchise Systems Inc. also received a "Franchisee Satisfaction Award" and was named in the Top 50 franchises by "Franchise Business Review" for the past seven of the last eight years. JBF has been featured on numerous national television shows including The Today Show, Good Morning America, Real Biz with Rebecca Jarvis, Fox News, CBS Early Show, ABC News, CNN, Headline News, Inside Edition and CNBC's The Big Idea. They have also been featured in Entrepreneur Magazine, Wall Street Journal, Inc.com as well as many top markets including Seattle, Minneapolis, Denver, Dallas, Houston, San Francisco and Philadelphia and on popular websites www.yahoo.com, www.sheknows.com and Disney website www.family.com.