05, August 2016: In recent years, intelligent electric scooter becomes more and more popular. There are many different scooter types and brands on current market. Comparatively speaking, Fosjoas is a world-famous brand in this sector. It has gained great praise and reputation. It has many different scooters and Fosjoas K2 electric scooter is one of popular types. Since Fosjoas K2 electric scooter was published on new product release conference, it has gained a very big consumer base. What makes it grow so quickly and why do so many people love it so much?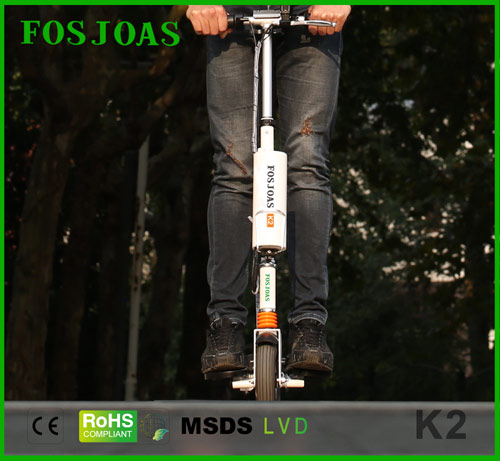 First of all, Fosjoas K2 electric scooter owns very fashionable appearance. It is made up of two small but strong tyres, adjustable operating arm and two pedals that are made from matting material. As a whole, Fosjoas K2 electric scooter gives people a strong sense of power, practicability and elegance. Compared with side-standing design, the anterior-standing design of Fosjoas K2 electric scooter accords principles of ergonomics and thus is helpful to reduce fatigue during riding. Freely adjusting body focus is able to realize different controls. Above all, Fosjoas K2 gives peopleeffortless and comfortable riding.

Under handlebars, it is battery unit. Different from other scooters, the battery unit of Fosjoas K2 2-wheeled electric scooter is replaceable. In other words, a run-out battery can be replaced by a full one, which makes range unlimited as long as riders take enough spare batteries. Besides short-distance travels, some long-distance travels, like weekend outing, are also very suitable for Fosjoas K2 2-wheeled electric scooter. Undoubtedly, the applications of Fosjoas K2 scooter in people's life have been largely widened.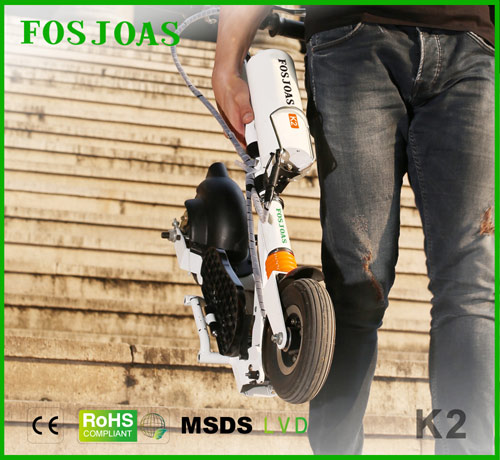 Multiple fold system is anotherhighlight of Fosjoas K2 standing up electric scooter, which effectively reduces storing space. Then, it can be folded into very smallfigure and put in trunk or other small spaces. Therefore, Fosjoas K2 scooter is very convenient to take along. It is no wonder that many people love it so much.

For Media Contact:
Person Name: Jason
Company: Moben Intl (England) Co., Limited
Address: London, UK
Email Id: moben@fosjoas.com
Website: http://www.fosjoas.com/