How to Create a Custom PowerPoint Template
Ever think of creating a custom PowerPoint template? There are tons of reasons why you should create custom PowerPoint templates. With a little Google search, you will find tons of specially-designed free custom PowerPoint templates shared by ordinary people just like you.
Creating your own custom or branded PowerPoint template is not rocket science. Anyone can do it with a little determination. But before we go into various steps for creating a custom PowerPoint template, let's take a look at different reasons why you should learn how to create custom templates.
Unique Template For Your Team
Whether you run a company, a business, or even work with a team in an office or school setting, you deserve a custom PowerPoint to make all your presentations look professional. Apart from looking professional, it also helps you to maintain brand consistency across your teams. Custom or branded template will make you stand out and easily pass your points without confusing your audience. It is an easy way of ensuring that your staff is staying on-brand.
Make Your Presentations Fast and Efficient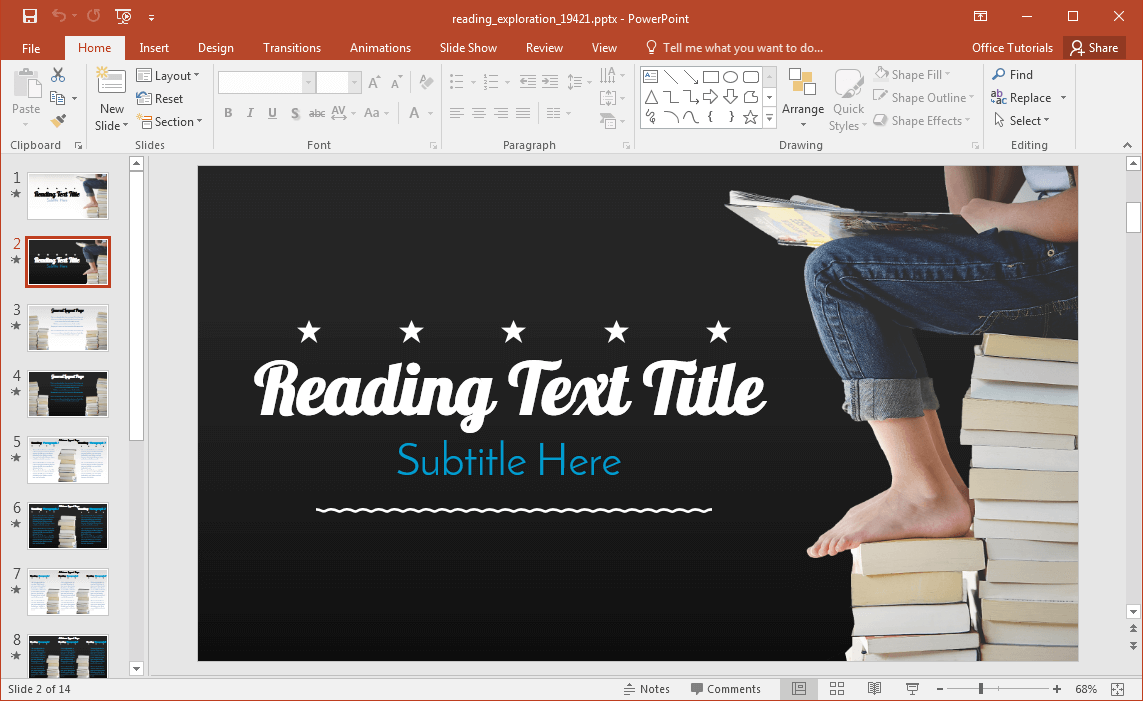 Do you constantly find yourself searching for the perfect PowerPoint at all times? It happens to even the best of us. A great way to avoid this problem is to come up with a custom template that is perfect for almost every situation. No doubt, this will make your future works faster and more efficient.
Make Money Making PowerPoint templates
Do you know that you can make money designing custom/branded PowerPoint slides? There are companies willing to pay you good money to make branded templates for them. Once you learn this skill, you can always monetize it at various freelance websites online.
Step By Step Methods To Create A Custom Powerpoint Template
Install Microsoft Office Package
Most new computers come with Microsft Office Package already installed. You need to ensure you have this on your computer for this to work. If you don't, you will need to install it. You can do this by visiting the official website of Microsoft.
Open Your PowerPoint on a Desktop Computer
Nowadays, most people make use of powerpoint on their smartphones and other portable devices. However, the best and most convenient way to create a PowerPoint slide is to make use of a computer or laptop. To start your PowerPoint, double-click the "PowerPoint" app icon on your computer. This icon resembles a white "P" on an orange background. When double-clicked, this will help you call up your PowerPoint.
Choose A Slide
Once your PowerPoint is open, you will need to click on the icon titled "Blank Presentation". This will call up a white blank slide. If you are using a Mac operating system, simply opening your PowerPoint app will take you directly to a new blank presentation slide. Once you have a blank slide, click on the "View" tab. After clicking on this tab, you will see another tab labeled "Slide Master". This is the tab you need to click to start customizing your slide.
Customize Your Slide As You Want
After clicking on the "Slide Master", you can start customizing your slide as you want. You have tons of options available to you. You can make use of charts, text, pictures, table, Smart Art, media, and even online images to customize your slide as you want.
Save Your Slide
Don't forget to save your slide. We will recommend you also save it online so you can easily retrieve it anytime you need to make use of the slide.

Final Word
Creating your first custom/branded PowerPoint template is an easy and straightforward process. You can easily do this with the steps recommended above. You can always share your free PowerPoint templates online so others can benefit from your work.